Now this is interesting. FASHION meets music and law. Awesome stuff. January of this year, when Ghana/Africa's prolific rapper Sarkodie hit us with the news of launching his fashion line called SARKS Clothing, I was H-A-P-P-Y. I mean, one of my favorite rappers out of the continent messing with fashion, it doesn't get better than that. Plus, it's rare to see African artists take advantage of merchandising as part of their revenue source. In other markets, it is almost laughable, at best, for artists to fail to capture such revenue. So, Sarkodie doing so was great!
Shortly after sharing the great news with you all, a designer emerged and boy was he angry. He claimed Sarkodie had stolen his artwork that he had designed and submitted as sketches to Sarkodie. Sarkodie, without his consent, was now using it for his SARKS clothing line.
We thought that drama was over but clearly it is not because the designer has now slapped the famous "rapperholic" with a lawsuit.
See the writ of summons below.
What is a writ of summons?
When a Plaintiff files a lawsuit,  there are certain mandatory processes such Plaintiff must take to notify the Defendant that a lawsuit has been filed against him/her.
At the onset, the Plaintiff must  prepare a complaint and summons/writ of summons to be filed with the court.
Next, the Plaintiff, through his/her lawyers or representing self, must have the court clerk review and process the complaint and writ of summons. When processed i.e. all the official court stamps, seals and signatures are in place, the document is now ready to be served on the Defendant. To that end, the writ of summons  is issued by the court as an order, ordering the Defendant to show up to court and answer/defend the lawsuit.
There is a specified time period for the Defendant to respond i.e. "answer." Here in the U.S and particularly California where I practice, if you are served in person, you have 30days from the time you were served to file your response.
What Happens if You Fail to Respond to Your Writ of Summons?
You most likely will be in default which means the Plaintiff wins unless you have a good reason for your failure to show i.e. the Plaintiff never served you with the summons, among other delineated acceptable and very limited excuses.
What are Some of Your Options When You Receive that Writ of Summons?
1. Do nothing and risk being in default.
2. File an answer i.e. respond to the allegations in the complaint.
3. File a general denial, depending on the case. You can file a general denial, here in the US, that essentially says I deny everything this guy is saying I did wrong. In Ghana I am unsure how the rules play out there but presumably there are some parallels. (AML Ghanaian practitioners reading this, let us know how your civil procedure rules work).
4. File a motion – I tend to be rather aggressive in my trial practice. If my client did not bring problem to your door, do not come finding him/her/it.To that extent, aggressive trial lawyers like myself would say, "Nah men. See we don't even get to first base. It really is not that kind of party. Then  we go about trying to get the case thrown out before it even gets started. That is done through various means including a "motion to quash," motion to strike," and a "demurrer."
Don't worry. You will not be tested on these terms so let's just skip it and deal with it should it come into play on this lawsuit or future ones.
What now for Sarkodie?. Let's see how this goes. . .
By the way, while the designer may claim copyrights to his sketches and validly so, what about the fact that he drew Sarkodie's head? Hmmm . . . there might be an interesting uphill battle ahead. Anyone remember Rihanna's lawsuit against TOP SHOP UK? I am not sure if Ghana has a right of publicity law (what is that? read here). I presume they don't.
But, even in the absence of a right of publicity law,  if Ghana's laws mirror the UK, it may not be so easy, per se, depending on the facts, for this Plaintiff to get a slam dunk victory in court.
Now let's really talk. What does this Plaintiff really want? Money. So, if indeed there is an infringement, then this case may settle and settle very soon.
Interesting case. I'm watching this one.
Folks check out the Rihanna Top Shop case and the image of the writ of summons courtesy Ameyaw Debrah blog.
What are your thoughts on the suit?
Cheers,
Uduak
Actually listen to my FAVORITE Sarkodie classic, first. 🙂
Okay, now your thoughts. 🙂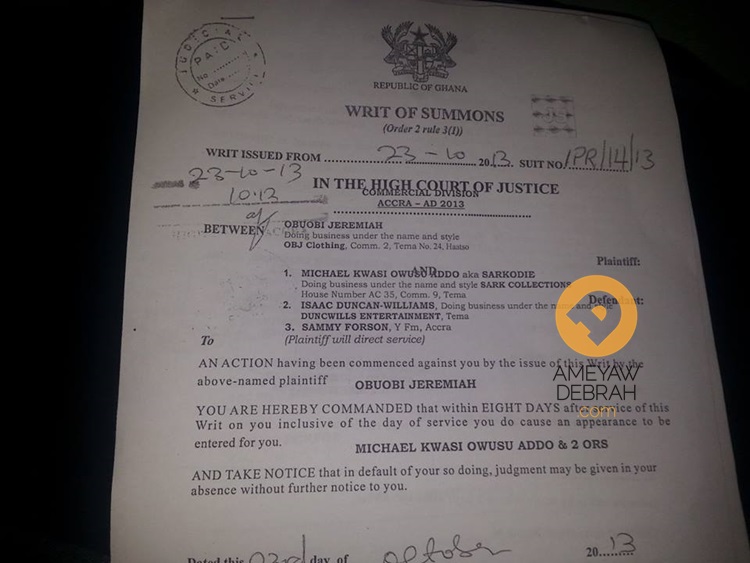 Ameyaw Debrah has the story.
Hi, I'm Uduak Oduok. I am a lawyer (almost 17 yrs) and Co-founder of Ebitu Law Group, P.C. where I represent businesses, and creative talents on mostly Intellectual Property, Business, Fashion & Entertainment Law Issues.
I am also the publisher of this platformAfrica Music Law (AML), a first of its kind music law blog providing legal commentary and analysis on issues targeting Africa's entertainment industry.
For blog-related inquiries (advertising, podcast licensing, feature as a guest, news tips), contact me at (africamusiclaw@gmail.com).
INTERESTED IN TALKING TO ME ABOUT LEGAL REPRESENTATION? To arrange a consultation to discuss your case, contact me at 916-361-6506 or email me directly at (uduak@ebitulawgrp.com).
Full bio: Ms. Uduak Bio/