By now, you all have probably heard of how upset Hollywood based Cameroonian musician Dencia is, as a result of Lupita Nyong'o outing her at the Essence Awards event during a speech Lupita made. The story goes like this, Lupita was speaking about the importance of appreciating who you are and her prior insecurities with her self image. During that speech, she asked to indulge her audience with a  note from one of her many fans. In that note, was a reference by the fan that the fan was about to purchase Dencia's Whitenicious product but as a result of seeing Lupita, she opted to forego the purchase. Lupita then launches into more of her speech and concluded with the plea that the audience love themselves from within and it would shine outwardly.
By the tone of the speech, there appears to be no ill will directed towards Dencia. Lupita was just reading a fan's email. However, should Lupita have been more responsible by not mentioning Dencia and Whitenicious in her speech?
Here's why I ask. On the one hand, Lupita's speech would appear to encourage women, especially women of darker skin, to love their skin tones and self and not alter it with lightening/bleaching agents. On the other hand, the  mere mention of Dencia's cream not only substantiates the kind of power Dencia has to influence young women, but gave more boost to her sales and visibility of her product to women who would not have otherwise known about Whitenicious. Whitenicious by all indications is Dencia's best move so far. Her work as an artist did not come close to getting her the global attention and media press Whitenicious has afforded her.
Was it really necessary to give Dencia that kind of power by acknowledging her and her product and driving more sales to her door step? Also, should there be some deference afforded Dencia as an industry colleague, after all Lupita had the chance to work out her own insecurities and issues with her skin tone. Who is to say Dencia is not sorting her own issues out, albeit publicly?
I understand, to some extent, that an argument can be made that if Dencia puts her product out there, she should be prepared to deal with the fact that such a product can be mentioned by a fellow industry colleague; or that a fan would write the colleague and the colleague would read on national tv. Nevertheless . . . .
What are your thoughts?
Watch the speech and read up on Dencia's reactions, she was not happy to say the least.
-Uduak
The Speech
"Dear Lupita, I think you're really lucky to be this Black but yet this successful in Hollywood overnight. I was just about to buy Dencia's Whitenicious cream to lighten my skin when you appeared on the world map and saved me. My heart bled a little when I read those words. And so I hope that my presence on your screens and in the magazines may lead you, young girl, on a similar journey. That you will feel the validation of your external beauty but also get to the deeper business of being beautiful inside. There is no shame in black beauty."
Lupita's Speech

Meet Dencia

See her responses to Lupita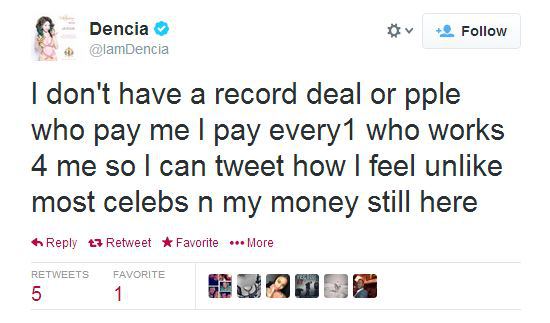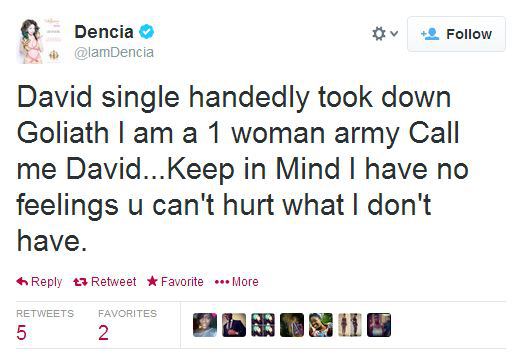 Hi, I'm Uduak Oduok. I am a lawyer (almost 17 yrs) and Co-founder of Ebitu Law Group, P.C. where I represent businesses, and creative talents on mostly Intellectual Property, Business, Fashion & Entertainment Law Issues.
I am also the publisher of this platformAfrica Music Law (AML), a first of its kind music law blog providing legal commentary and analysis on issues targeting Africa's entertainment industry.
For blog-related inquiries (advertising, podcast licensing, feature as a guest, news tips), contact me at (africamusiclaw@gmail.com).
INTERESTED IN TALKING TO ME ABOUT LEGAL REPRESENTATION? To arrange a consultation to discuss your case, contact me at 916-361-6506 or email me directly at (uduak@ebitulawgrp.com).
Full bio: Ms. Uduak Bio/