Creative people that are double and triple threats are an absolute turn on for me. Hmmm . . . I wonder why? 🙂 In my BET discussions I recently had with you all, I mentioned there is a higher probability when you see an African musician, that they are not only gifted in the creative arena, they are also college educated. If they are Nigerian, add loads of graduate degrees on top of that. Rappers with MSCs, PHDs, JDs. What other group does that??! *Well. . . .*
In any event, one of many examples of such creatively intelligent African music talent has to be this young lady Ms. Adaku from Nigeria. Just listen to her and and see why she is an AML Approved artist and definitely one to watch. In fact, forget all that. She is basically here to set the industry ablaze, within and outside the continent, of course. Switches to Pidgin English. "You wey dey over dia! Ehn you. Abeg commot for road. In fact, park well jor real talent coming through on AML!" 🙂
AML USA Promoters, I think you can see from Zara Gretti to Duncan Daniels, Chris Akinyemi, Gloria Maduka, NAIRA to Adaku, why you should support local USA talent. Revisit my discussions on that issue here.
Have a Happy Friday and happy weekend.
-Uduak
@uduaklaw
[audio:https://www.africamusiclaw.com/wp-content/uploads/2012/07/Or-You-Can-by-Adaku-AML-Approved.mp3]
"ADAKU is a US-Based Nigerian Singer/Songwriter from Nigeria who has had to hide her talent and passion for singing in order to fully complete her degree education in Electrical Engineering, an education which has finally culminated in a Master's Degree in Electrical Engineering. Throughout her education however, Adaku continued to immerse herself in music whenever and wherever she could – her YouTube covers of popular songs such as Bruno Mars' "Grenade", Adele's "Someone Like You and Nneka's "Heartbeat, garnering over 100,000 views on the popular video platform.

Gifted with an amazing voice, the Singer/Songwriter who also plays the guitar is set to storm the world with her uniquely sublime talents and is certainly well on her way on this journey as she was featured on YouTube's home page as a part of the month of June's Fresh face. This included a full day's feature on YouTube's music homepage.

MEDIA & BOOKINGS:
Please direct all media and booking inquiries to Management (adakumusic@gmail.com).
Watch Adaku I go crazy over acoustic guitar sounds. Just gorgeous musical instrument.

Subscribe to Our Podcast Show
Some of Our Achievements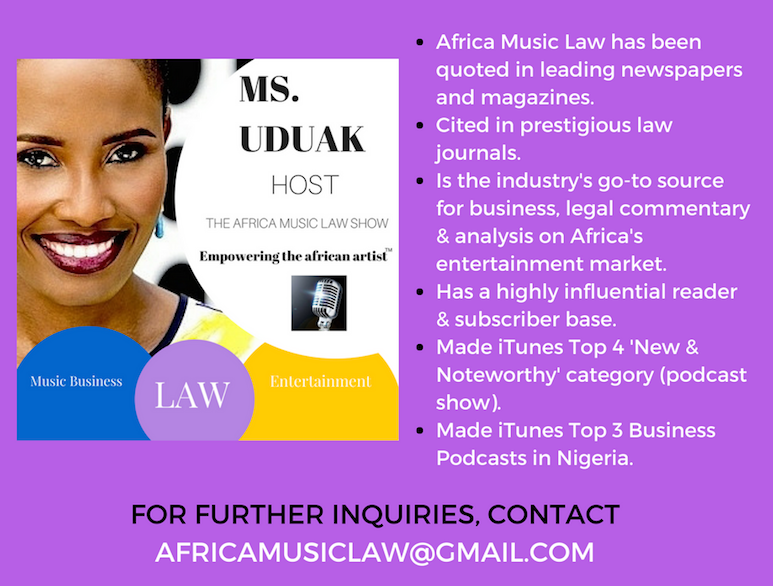 AFRICA MUSIC LAW™ (AML) is a pioneering music business and entertainment law blog and podcast show by Fashion and Entertainment Lawyer Ms. Uduak Oduok empowering the African artist and Africa's rapidly evolving entertainment industry through brilliant music business and entertainment law commentary and analysis, industry news, and exclusive interviews.
Credited for several firsts in the fashion and entertainment industry, Ms. Uduak is also a Partner and Co-Founder of Ebitu Law Group, P.C. where she handles her law firm's intellectual property law, media, business, fashion, and entertainment law practice areas. She has litigated a wide variety of cases in California courts and handled a variety of entertainment deals for clients in the USA, Africa, and Asia. Her work and contributions to the creative industry have been recognized by numerous organizations including the National Bar Association, The American University School of Law and featured in prestigious legal publications in the USA including ABA Journal and The California Lawyer Magazine.
For legal representation inquiries, please email (uduak@ebitulawgrp.com). For blog related inquiries i.e. advertising, licensing, or guest interview requests, please email (africamusiclaw@gmail.com). Thank you for visiting Africa Music Law™.