There is something about this woman. I can't place my finger on it but there is something there. I can't shake her off the music thoughts in my head, right from when I first heard her work.
She's got the charisma, looks, talent, stage presence, industry experience, albeit in the UK, she is articulate, fashion forward, charming and she just got on Nigeria's music scene. It is indeed about to get "dangerous," at least my instinct tells me that, with the caliber of female singers/songwriters Nigeria's music industry will churn out in 2013. I think the trick for her will be to focus, exclusively, on her fans and growing her African fan base (on the continent and across the globe) with absolutely no distractions.
I look forward to what Seyi Shay has to offer and backed by Cecil Hammond's Fly Time Records, I expect solid numbers on AML music boards. I think I am placing my bet on her as an artist to watch in 2013. Let's see what happens with my bet come December of next year.
-Uduak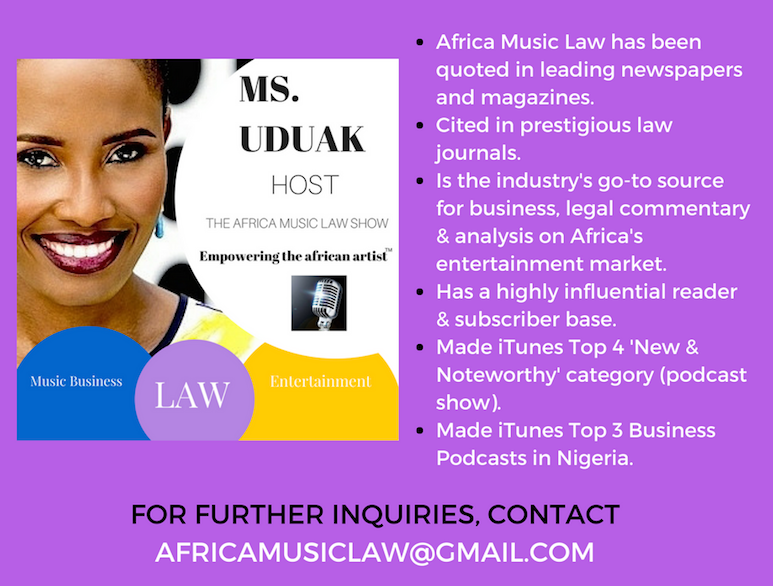 AFRICA MUSIC LAW™ (AML)
 is a pioneering music business and entertainment law blog and podcast show by Fashion and Entertainment Lawyer Ms.
Uduak Oduok
dedicated to empowering the African artist and Africa's rapidly evolving entertainment industry through brilliant music business and entertainment law commentary and analysis, industry news, and exclusive interviews.
The podcast show made iTunes top 4 'New & Noteworthy,'  and is iTunes top (3) business podcast shows in Nigeria. Subscribers include Africa & Hollywood's power executives, investors, lawyers, artists and other industry stakeholders.
The blog itself has been cited in a U.S. top-ranked law school's 'International Law Review' journal. Country demographic breakdown are as follows: Nigeria (26%), USA (23%), UK (15%), UAE (7%), and Other (29%). For blog related inquiries (advertising, podcast licensing, feature as a guest, news tips), contact (africamusiclaw@gmail.com).