"After they will say Africans are backwards, savages etc." is what someone I know usually says when stories like this one surfaces. She does it complete with hand gestures and facial expressions that has me laughing. It is so hilarious.
Last week, I spoke about Nollywood actor Jim Iyke who attacked female blogger Linda Ikeji for a picture she supposedly posted showing  him eating roasted corn in a foreign country. Apparently Iyke did not like it. He got personal. He went for the kill attacking his perception of her ability or lack thereof  to tend to her man at home. It turns out it wasn't even Linda Ikeji who wrote the story. Can someone say "silly?!" I questioned why he did not focus on the issue and why he had to get personal and sexist.
On this side of the pond, today, Donald Trump follows Jim Iyke in his sexist and personal attacks against Arianna Huffington, female and owner  of the Huffington Post.
TMZ reports:
"Donald Trump has gotten downright nasty AND personal in his beef with Arianna Huffington … calling the media titan ugly and saying he understands why her husband left her for another man.

Trump just tweeted, "@ariannahuff is unattractive both inside and out. I fully understand why her former husband left her for a man- he made a good decision."

For the record, Arianna and Michael Huffington split in 1997 … and a year later, the former congressman revealed that he's bisexual. Michael is now a gay rights activist.

Trump has been ripping the Huffington Post ever since the website ran a story on August 16, which attempted to uncover why Donald has been so "crabby" recently. .  ."  TMZ.
AML Commentary
In a progressive country and for a man who claims to be progressive, really? This is a man who even attempted to become President? I shudder. Also, clearly ridiculous statements from him. Is he really attacking Arianna's ability to keep a man? This is a man whose money wasn't even enough to keep prior women. How many divorces? What standing does he have to attack Arianna Huffington? What a very backward statement and highly indicative that we are not quite there with women's rights movements in certain aspects. Indeed, when male law makers and political candidates spend more time talking irrationally about women's reproductive rights and then waste yet more time distinguishing between "legitimate rape" and "illegitimate rape," maybe Trumps comments should not come as much of  a surprise.
By the way, since when exactly, in a so called progressive country, did women become defined by their ability or lack there of to keep a man?
Such utter nonsense.
Uduak
-@uduaklaw
Photocredit: TMZ
Subscribe to Our Podcast Show
Some of Our Achievements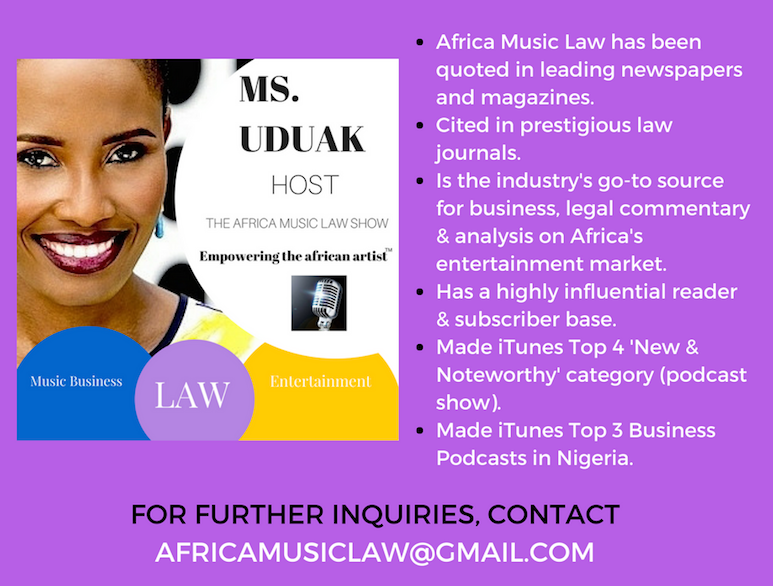 AFRICA MUSIC LAW™ (AML) is a pioneering music business and entertainment law blog and podcast show by Fashion and Entertainment Lawyer Ms. Uduak Oduok empowering the African artist and Africa's rapidly evolving entertainment industry through brilliant music business and entertainment law commentary and analysis, industry news, and exclusive interviews.
Credited for several firsts in the fashion and entertainment industry, Ms. Uduak is also a Partner and Co-Founder of Ebitu Law Group, P.C. where she handles her law firm's intellectual property law, media, business, fashion, and entertainment law practice areas. She has litigated a wide variety of cases in California courts and handled a variety of entertainment deals for clients in the USA, Africa, and Asia. Her work and contributions to the creative industry have been recognized by numerous organizations including the National Bar Association, The American University School of Law and featured in prestigious legal publications in the USA including ABA Journal and The California Lawyer Magazine.
For legal representation inquiries, please email (uduak@ebitulawgrp.com). For blog related inquiries i.e. advertising, licensing, or guest interview requests, please email (africamusiclaw@gmail.com). Thank you for visiting Africa Music Law™.