I received this story from an AML reader. Thank you.
In today's world, it seems the word "no" is what many men seem to have a hard time understanding, especially for men on the continent. I mean guys don't have to work too hard for a girl anymore. You meet a girl, these days, you expect sex, right off the bat and she is indeed quick to give you sex, before y'all even get to know each other. The "getting to know" part comes AFTER the sex and for many men it means a free pass at everything, including a fundamental disrespect heaped at such women. God dey.
Also, God forbid that a man who takes you out to dinner on a date does the gentleman thing i.e. pays for dinner. If he does, then he has a right to sex. There is just a fundamental and twisted thinking of entitlement with many of today's men. Many don't even know what it means to work hard. When challenges come, they crumble and lack the spine to face adversity with their self esteem intact and their heads up. What is wrong with our generation? Do we realize the baton has been passed on from our parents' generation and that WE are now the ones youngsters are looking up to? These spineless men, obviously not all men, think despite their inabilities to step up to the plate as men, they just ought to have sexual favors from women anytime they want. Gosh! What a world we live in.
"No" is definitely not a word these kind of men who pay for a dinner date want to hear. How much is dinner? Ladies can you just reach in your purses and throw back a couple of bills and tell him to keep the change? Ridiculous. If a woman is gutsy enough to say, "homie you best to fall back. I just met you. Don't come at me like that. Is you crazy?" Comedian 'Klint the Drunk' recommends you fellas RAPE her. You can read his tweet below. Ain't that some ish????!
In the USA, we deal with politicians such as Rep. Todd Akin who try to draw a distinction between "legitimate rape."
"It seems to be, first of all, from what I understand from doctors, it's really rare. If it's a legitimate rape, the female body has ways to try to shut the whole thing down." – Rep. Todd Akin.
*Blank stare." So, I am definitely not going to join the bandwagon to say Africans are just so backward, illiterate and get on some soap box. I will just say, if men who are arguably charged to protect us women fail to do so, then it is incumbent upon us women to not only protect ourselves but make sure we use the laws, among other advocacy tools, to prevent men from harming us, especially in a democracy.
Suffice it to say, Kilnt the Drunk, your "joke" is not funny, at all. You are most appropriately called a "fool" i.e. lack any form of reasoning to even make such a statement and think it funny.
The "ish" is real on the statistics of girls being raped in Nigeria and across Africa. When you add women to the mix, it is off the chain. This is unacceptable and I believe 'Klint the Drunk' ought to issue an apology and be clear to little Nigerian girls, women and men that he does not advocate for our sisters, mothers, aunties, grandmothers, female cousins to be raped.
I also think event organizers hiring him should stop doing so if he plans to make such "jokes" on stage. Nonsense and rubbish of the highest order.
-Uduak
@uduaklaw
Photocredit from Berry Kiss Inspires Blog.
Subscribe to Our Podcast Show
Some of Our Achievements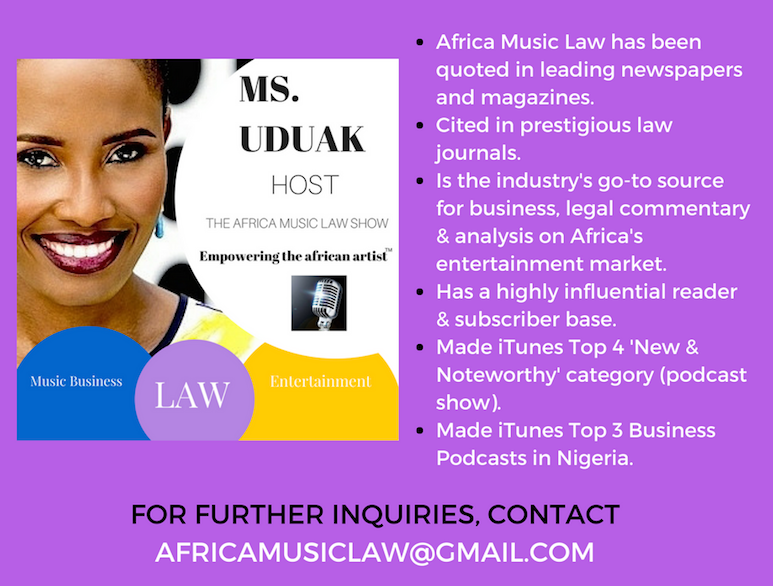 AFRICA MUSIC LAW™ (AML) is a pioneering music business and entertainment law blog and podcast show by Fashion and Entertainment Lawyer Ms. Uduak Oduok empowering the African artist and Africa's rapidly evolving entertainment industry through brilliant music business and entertainment law commentary and analysis, industry news, and exclusive interviews.
Credited for several firsts in the fashion and entertainment industry, Ms. Uduak is also a Partner and Co-Founder of Ebitu Law Group, P.C. where she handles her law firm's intellectual property law, media, business, fashion, and entertainment law practice areas. She has litigated a wide variety of cases in California courts and handled a variety of entertainment deals for clients in the USA, Africa, and Asia. Her work and contributions to the creative industry have been recognized by numerous organizations including the National Bar Association, The American University School of Law and featured in prestigious legal publications in the USA including ABA Journal and The California Lawyer Magazine.
For legal representation inquiries, please email (uduak@ebitulawgrp.com). For blog related inquiries i.e. advertising, licensing, or guest interview requests, please email (africamusiclaw@gmail.com). Thank you for visiting Africa Music Law™.