Am I the only one that observed the deafening silence on Linda Ikeji's blog when it came to reporting on the story of the EME cancelled concert? Ikeji has always given the impression that anything goes on her blog. She is the queen of gossip. She has used this to defend herself when attacked. Yet, when the rubber really met the road, she stayed silent. This silence would have been okay but for her publishing the post apology issued by the Promoter in that EME-Royal Entertainment cancelled concert squabble. It definitely speaks volumes and I think makes it harder for her to hide under the veil of anything goes, in the future, when she is questioned about filtering her content and confirming the truthfulness of the stories she shares on her blog.
However, this post is not about Linda Ikeji's inaction in the EME drama last week. It is about the verbal attack and assault heaped against her by Nollywood Actor Jim Iyke.
Jim Iyke, I'mma speak to you for a minute Sir!
First, yes we all know or I think we all know, that there has been what is nothing short of an onslaught of attacks, gross, terrible, false and wicked statements and actions directed towards you about your character. I, for one, have been beyond livid about it and have backed you up in such instances. But, homie, there comes a point in a man's life where you gotta have a bit more control on how you handle situations.
Getting on twitter to do your so called "shoutouts" and now the verbal assaults and attacks when you perceive you are being attacked is unacceptable, especially for a man your age and position. It is a terrible look, especially since it now appears to be recurring.
With the recent news published about you, what is wrong with eating corn in Amsterdam? Are you beyond eating corn in a foreign land? Does that affect your acting gigs? The angry outbursts on twitter is tiring. Get it together! In this instance, it is particularly embarrassing because you make no sense and you also misdirected your attacks.
What's the story AML People?
Jim Iyke visits Amsterdam. While visiting, he stops at a roasted corn joint, purchases and proceeds to enjoy his roasted corn. He shares the photo on his twitter page. He is a public figure and news reporters and blogs in Nigeria, USA and many other countries can certainly take what he shares and write about it, if they deem it newsworthy. Laila Ikeji, Linda Ikeji's sister, deemed his photo of him eating roasted corn to be newsworthy. She shared it on her blog. What does Iyke do?
He attacks, with venom, Linda Ikeji and says she should "quit stealing" his pictures from him and putting it on her blog." – Blank stare. *In my Black-American accent.* Jim Iyke, is you fo' real tho'?? Really? As in really, really? He then attacks her marital status and tells her to spend time on her man. Jim Iyke, how low can you get? Fall back with the mess, will you?
Below is the back and forth between Jim Iyke and Linda Ikeji who defends herself:
"jimiykeofficial: S/O @lindaikeja 4 her OBSESSION wit me! Thru science u can use ur DNA to trace ur roots. I'm sure u share same DNA wit JEZEBEL walahi! WTF!

jimiykeofficial: @lindaIkeja Quit stealin pics fr me n pastin it on ur blog is so lame. There's smth called originality n flair. Ask @uwillcgossip! Lol! SAB!

lindaikeji: @jimiykeofficial there's no pic of u on my blog, my darling. U're mistaking me for another blogger. Go check it out again. Kisses

jimiykeofficial: @lindaikeji Bleep off lady! I'm nt even gonna pretend to be a gentleman abt tis. U can play d victim all u want. I dt give a rat Bottom
period!

lindaikeji: @jimiykeofficial what a child! *truly sad*

jimiykeofficial: @lindaikeja WtF is her last name! If u spend her d time u consume mudslingin me on ur hubby or partner or wateva u might actually be happier

lindaikeji: @jimiykeofficial u're just attacking me for no reason. U sure u're alright?"
Jim Iyke has since realized the error of his ways and yesterday tendered what was an egotistical apology, in my view, to Linda Ikeji. Again, I don't understand why a grown man like Iyke has such a hard time managing his emotions. It gets really old and embarrassing with his outbursts on twitter. It really isn't by force to use twitter. You can delete your account and move on with life if you are that affected by what people say.
-Uduak
@uduaklaw
Subscribe to Our Podcast Show
Some of Our Achievements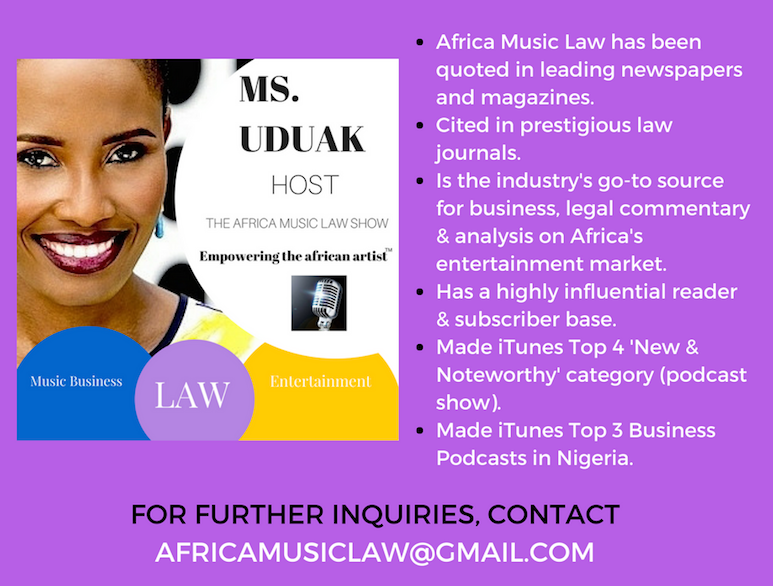 AFRICA MUSIC LAW™ (AML) is a pioneering music business and entertainment law blog and podcast show by Fashion and Entertainment Lawyer Ms. Uduak Oduok empowering the African artist and Africa's rapidly evolving entertainment industry through brilliant music business and entertainment law commentary and analysis, industry news, and exclusive interviews.
Credited for several firsts in the fashion and entertainment industry, Ms. Uduak is also a Partner and Co-Founder of Ebitu Law Group, P.C. where she handles her law firm's intellectual property law, media, business, fashion, and entertainment law practice areas. She has litigated a wide variety of cases in California courts and handled a variety of entertainment deals for clients in the USA, Africa, and Asia. Her work and contributions to the creative industry have been recognized by numerous organizations including the National Bar Association, The American University School of Law and featured in prestigious legal publications in the USA including ABA Journal and The California Lawyer Magazine.
For legal representation inquiries, please email (uduak@ebitulawgrp.com). For blog related inquiries i.e. advertising, licensing, or guest interview requests, please email (africamusiclaw@gmail.com). Thank you for visiting Africa Music Law™.