Copyright Society of Nigeria (COSON) charges ahead in helping shape the legal and business structure of Nigeria's music industry, especially where it comes to royalty payments for artists. On May 8th, 2012, the organization elected new board members and officers. It is good to see familiar names with actual industry experience involved in the organization. Names such as Banky W of EME Records, Audu Maikori of Chocolate City Records, Fuji artist Adewale Ayuba and Storm 360 Executive Obi Asika.
I am particularly pleased to see Maikori and Asika involved in COSON as I know they also bring their legal hats to the table. I  anticipate COSON will continue to be an organization that is cautious yet purposeful in drafting of guidelines/recommendations, music advocacy and implementation of meaningful well thought out strategies and policies to drive the industry forward. Needless to say, it is high time AML industry, artists in particular, begin reaping the benefits of their hard work.
I also mentioned in a post a few days ago on Wax's take of Naija mix, the importance of carving out laws that are innovative and anticipate the exploitation of "Naija" music by other African countries and artists. COSON continues to be, in my book, a step in the right direction.
One last thing, I can't stress enough, how much we need diversity of voices and representation when it comes to women in organizations like COSON. I encourage AML female Nigerian artists reading this to get in the game. For starters, persons that would seem quite qualified include Sasha P who has a legal and music background, Emem of One Management, also an artist, industry executive and a law degree holder.
I would also like to see industry women who provide ancillary services that drive the success of many in Nigeria's music industry get involved. That includes persons like Toni Payne of Toni Payne Concepts and Bobby Taylor of Bobby Taylor PR.
This is, overall, a good look and I look forward to the industry making tremendous inroads as organizations like COSON keep the artist and the music at the center of all negotiations and advocacy.
-Uduak
Photodescription: "Faces of the newly elected COSON Board
L-R: Audu Maikori, CEO of Chocolate City; Efe Omorogbe, CEO of Now Musik; Banky W (of EME Records); Adewale Ayuba; Chief Tony Okoroji (One of COSON's founders); Azeezat Allen; Obi Asika, CEO of Storm 360; Baba Dee, Hon. John Udegbunam."
Photocredit: COSON
Subscribe to Our Podcast Show
Some of Our Achievements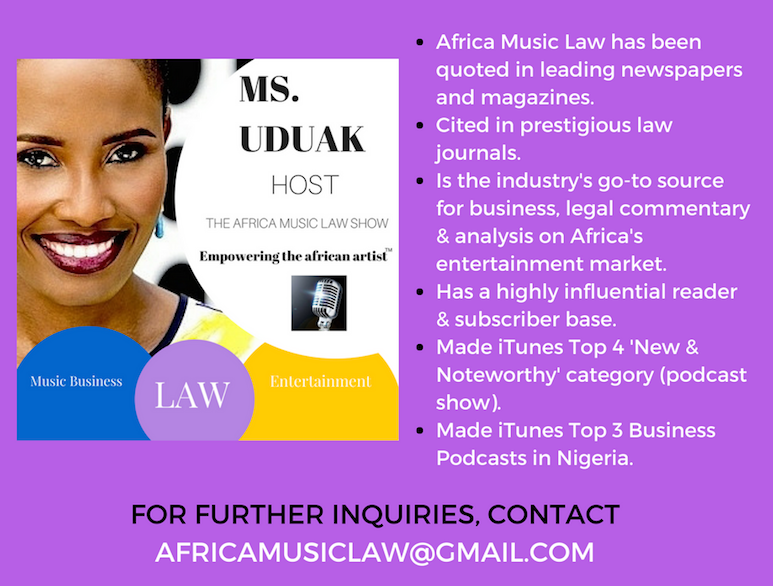 AFRICA MUSIC LAW™ (AML) is a pioneering music business and entertainment law blog and podcast show by Fashion and Entertainment Lawyer Ms. Uduak Oduok empowering the African artist and Africa's rapidly evolving entertainment industry through brilliant music business and entertainment law commentary and analysis, industry news, and exclusive interviews.
Credited for several firsts in the fashion and entertainment industry, Ms. Uduak is also a Partner and Co-Founder of Ebitu Law Group, P.C. where she handles her law firm's intellectual property law, media, business, fashion, and entertainment law practice areas. She has litigated a wide variety of cases in California courts and handled a variety of entertainment deals for clients in the USA, Africa, and Asia. Her work and contributions to the creative industry have been recognized by numerous organizations including the National Bar Association, The American University School of Law and featured in prestigious legal publications in the USA including ABA Journal and The California Lawyer Magazine.
For legal representation inquiries, please email (uduak@ebitulawgrp.com). For blog related inquiries i.e. advertising, licensing, or guest interview requests, please email (africamusiclaw@gmail.com). Thank you for visiting Africa Music Law™.