Folks here in the USA, we are about wrapped up with New York Fashion Week for Fall 2012. So, I think I will make this new week on Africa Music Law primarily about the intersection of Fashion with Music. I will identify some of our music stars that are just "on it" when it comes to fashion. If you think you know what I have to say, you have no idea! 🙂
Until then, I am closing out this weekend with the lawsuit of Stingomania's Ope Banwo versus Richard Branson's Virgin Atlantic. The lawsuit has been reported by news media since February 4th, 2012 but you all know I actually practice and run a law firm, in addition to Ladybrille publishing business. So it had to wait till I had time.
Let's get into it shall we?
The news story as reported by BusinessDay.com's Obidike Okafor
"Movie producer and Stingomania Records boss, Ope Banwo, is reportedly suing Richard Branson's Virgin Atlantic for N1 billion over an alleged infringement of the company's rights on the Dagrin biopic 'Ghetto Dreamz'.

Banwo alleges, in a Bigsam Media statement, that Virgin Atlantic played the full length of the movie 'on over 71 international routes of the airline." He further alleges that "the video content and soundtracks were also played in their office, they uploaded a trailer and exhibited a poster of the movie on two of their websites including www.virgin-atlantic.com/ng, virginatlantic.mymovies.net; seatback@fly.virgin.com'.

The Stingomania C.E.O also claims that the contents of the movie and particulars were also published in their inflight magazines circulated across all routes, travel agencies and inflight.

Banwo is suing the airline for N1 billion as compensation and N5 million as the cost of prosecution. He has, also, requested for the court to mandate the defendants to publish apologies in three national newspapers, on the defendants' websites and in their inflight magazine.

According to the statement, Justice Adah of the Federal High Court, Lagos has granted an exparte order restraining the Virgin Atlantic Airways Ltd "whether by themselves, agents, privies, management, directors, pilots, flight crew etc" from infringing or continuing to infringe the copyright in any audio, performance, soundtrack, cinematograph rights and audio-visual musical recordings of the plaintiff, Ope Banwo.

The statement also says that the court adjourned the case to March 12, 2012. 'GHETTO DREAMZ', the biopic based on the life of the late rapper Dagrin which stars budding music act Trybson Dudukoko, AMAA winner, Doris Simeon, Rachael Oniga, Pa Kasumu, Kenny St. Brown, Jaywon, Gabriel Afolayan and fast rising Oyindamola Odesola among others hit the cinemas in April 2011 as part of the first anniversary memorial project in honour of the late rapper."
Let's parse out a few things.
1. Who are the parties?
Plaintiff = Stingomania, as a business entity operated by Ope Banwo and also owner of the Da Grin movie.
Defendant = Virgin Atlantic, as a business entity owned by Sir Richard Branson.
Your lawyers, on your behalf, can sue both businesses and individuals where the fact call for such lawsuit. In this instance, it is one business pitied against another.
2. What area of the law are we dealing with?
Business/Company Law
Business Litigation
Intellectual Property law and more narrowly tailored to Copyright Law
3. What is alleged?
The copyright infringement of the work of Stingomania
4. Where Did these Infringements Occur?
1. Air: In flight video entertainment across 71 international routes
2. Paper: In a hard copy magazine also inflight
3. Online: On websites of Virgin Atlantic
5. Procedurally, what has been done so far?
1. The case was filed
2. It appears the other side may/may not have been served properly
3. The Plaintiff Stingomania filed an exparte order asking for an injunction
4. The court heard the ex parte hearing and issued an injunction stopping future airing of the movie on Virgin Atlantic in-flight entertainments.
5. The next court date is March 12th, 2012
6. What Are Possible Anticipated Arguments on Virgin Atlantic's part against the claims made?
1. They do have the proper license/ permission to distribute Da Grin's movie
2. They would need to provide evidence on the person or entity that gave them such permission.This is where Stingomania may have a hurdle. It is common knowledge that it takes multiple persons to produce a movie. Often, even in the USA, many forget to procure the rights to certain songs and video clips to a movie. If there are persons who never signed over their copyrights to Da Grin's movie from the songs to any part of the pictures shot for the film, then it could get ugly.
7. What Are the Laws Regarding Copying Other People's Work Without Permission or Compensation?
UK, Nigeria and the USA have parallel laws in terms of what a copyright is.
8. What is a Copyright?
USA Federal copyright law defines copyright as the exclusive right of the author of a creative work (the original owner of the creative work) to prevent others from using the work without permission. Click here for USA copyright law.
Nigeria Copyright law does not explicitly define copyright law in the statute (i.e. the code book). However, actual definition can be found in Nigeria's case law. Click here for Nigeria's copyright law.
9. Virgin Atlantic is a UK brand what is UK's definition of a copyright?
UK also subscribes to the similar definition above for copyright law found in the States. Visit UK Copyright Law Government Website here.
10. Now What? What Can Stingomania Do With Its Copyright as an Author?
In the USA, Nigeria, UK Stingomania can:
Reproduce its work
Publish
Prepare derivative work
Distribute copies of its work to the public
display copyrighted work publicly
for sound recordings, perform the work publicly including through digital audio transmissions, among other options.
11. Does Stingomania have to register its copyright work?
In the UK, Nigeria and the USA, they do not have to. Registration however is a good idea and provides even more legal bite in a situation where you anticipate suing others for infringement.
12. The Trial – A Few Comments
A few comments. When we are in litigation, it is legal war zones and usually it is a take no prisoners kind of war. A good defense team swings just as hard at the Plaintiff if not harder and shuts down the legal party. For that to happen, there are strategic moves each side makes in the best interest of their cases and clients.
From a Richard Branson/Virgin Atlantic point of view, the attorneys should want to move the case from Nigeria to UK. The lawsuit allegs 71 international routes. Fine. Move the case to the UK and let Ope Banwo be the one to expend even more resources traveling up and down for his law suit. The attack would be that the current venue is improper. However, not knowing Nigerian civil procedure laws on venues and more facts in this case, I can't say for sure that Richard Branson and his lawyers have much of a leg to stand on the venue argument. Also, the fact that the film was produced in Nigeria and Branson does business in Nigeria gives the court the power to hear this case. Home court advantage, nevertheless, never hurts.
Second, the note speaks of an ex parte application seeking an injunction of which the court granted. In simple terms, an ex parte application is an emergency hearing where you tell the court that a harm is so great it needs to be stopped right away so the court should hear your issue ASAP, usually within 24hours. It has no bearing on the entire case. In this instance, the court heard a request to stop further broadcasting of Da Grin's movie on Branson's airplanes as in-flight entertainment. This is not an uncommon request or court order in copyright infringement cases. Courts, however, have ruled against a Plaintiff seeking an injunction where a movie premiere is scheduled to occur. We saw this in the USA with the movie Hangover II and also a recent movie 'The Land of Blood and Honey' by Angelina Jolie. Both courts there bought the argument by the Defense attorneys that it would be more detrimental to stop the premieres of these films after the millions of dollars that had been invested.
Finally, let's talk about damages. Courts are not a place you go to waste the court or jury's time. If you are there, you should have calculated and know exactly what you want from the court/jury. If someone wrongs you and it hurts but you can't point to damages you suffered, you are wasting everyone's time. Indeed, almost all claims brought before any court of law requires a showing of damages be it monetary damages or non-monetary damages.
What Damages i.e. Money One Can Receive in a Copyright Infringement case?
In Nigeria, there are administrative remedies, criminal and civil remedies where copyright infringement is established. The same holds true here in the States. For this case, here is what we got:
1. Injunction: In a case like this where infringement occurs whether it be music or film, the Plaintiff can ask the courts in Nigeria for an "injunction" to stop further circulation/distribution of the infringed work. Ope Banwo already did.

2. Money: Stingomania can ask for money to recover how much they lost from this alleged theft. In this case they are asking for 1billion Naira. Often, it is not unusual to ask for an accounting from the defendant so a Plaintiff can receive all that it is allegedly entitled to.

3. Attorney's fees: Depending on the jurisdiction (state/country) one may or may not be able to recover attorney fees. Here, Ope Banwo is asking for a 5Million Naira compensation for prosecution of the case i.e. attorney fees.
What are your thoughts given the facts reported about the case?
Let me know.
Cheers,
Uduak
Subscribe to Our Podcast Show
Listen to the Latest Podcast Episodes
Some of Our Achievements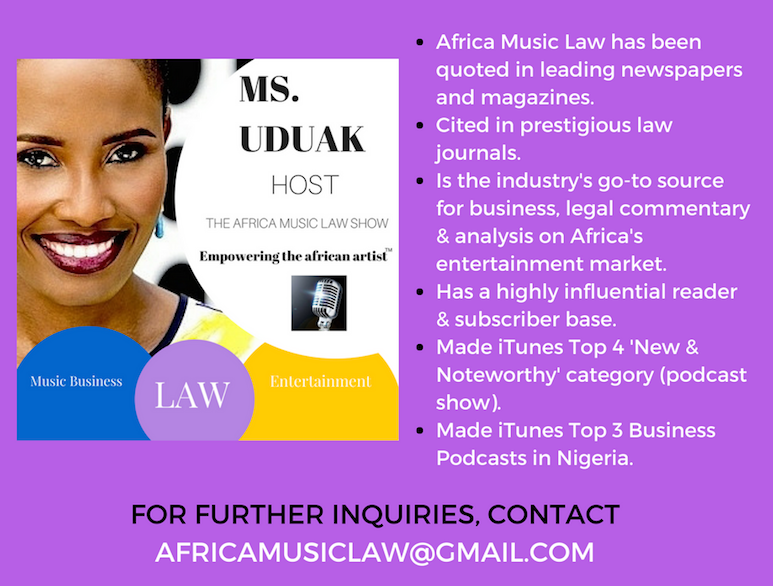 AFRICA MUSIC LAW™ (AML) is a pioneering music business and entertainment law blog and podcast show by Fashion and Entertainment Lawyer Ms. Uduak Oduok empowering the African artist and Africa's rapidly evolving entertainment industry through brilliant music business and entertainment law commentary and analysis, industry news, and exclusive interviews.
Credited for several firsts in the fashion and entertainment industry, Ms. Uduak is also a Partner and Co-Founder of Ebitu Law Group, P.C. where she handles her law firm's intellectual property law, media, business, fashion, and entertainment law practice areas. She has litigated a wide variety of cases in California courts and handled a variety of entertainment deals for clients in the USA, Africa, and Asia. Her work and contributions to the creative industry have been recognized by numerous organizations including the National Bar Association, The American University School of Law and featured in prestigious legal publications in the USA including ABA Journal and The California Lawyer Magazine.
For legal representation inquiries, please email (uduak@ebitulawgrp.com). For blog related inquiries i.e. advertising, licensing, or guest interview requests, please email (africamusiclaw@gmail.com). Thank you for visiting Africa Music Law™.