What a beautiful delight to see Yahaya Maikori share the picture of his win/award as Africa's Entertainment Lawyer of the Year at the Lawyer Monthly 2013 Legal Awards. Yahaya is a Senior Partner at Law Allianz, a law firm he co-founded with his brother Audu Maikori. He is also an executive at Chocolate City Nigeria, a record label he also co-founded with Audu, among others, and home to two of Nigeria and Africa's reputable artists: Ice Prince and M.I Abaga. In 1993, he obtained his Bachelor of Law from the Nigerian Law School and in 2010 received his LLM from the University of London.
"The 2013 Lawyer Monthly Legal Awards recognizes the achievements of lawyers, law firms and associated legal professionals whose knowledge and expertise continue to influence the wider profession. The Lawyer Monthly Legal Awards celebrate firms that have achieved success in commercial terms and firms that have responded to client needs; whilst also considering the different challenges and contexts in which legal firms operate.

Over the past four months our research team collected and collated votes through our online voting system. Each vote was compared against a strict set of measurable criteria in order to produce a list of finalists and the eventual winners.
The Lawyer Monthly Legal Awards 2013 winners have stood out from their peers by demonstrating professional achievement and excellence in their jurisdiction and sector of practice. .  . "
Also winning and representing Nigeria is the Law Firm of Tayo Oyetibo & Co. who won the Arbitration and Litigation Law firm of the year. Congratulations to both for the win. You can check out a full list of all winners from around the world here.
The event is produced by Lawyer Monthly Magazine. "Lawyer Monthly is a global publication providing news, analysis and features on all the latest headlines within the legal and corporate worlds. Lawyer Monthly examines the key issues affecting the legal community globally, including the major regions such as the US, Europe and Asia, across all sectors including mergers and acquisitions, banking and finance and intellectual property.  
Lawyer Monthly is a monthly magazine available in print and online, Lawyer-Monthly.com is a news website updated with high quality relevant content daily.  The magazine offers a mix of news-led editorial features, with our editorial team exclusively interviewing some of the biggest players within the legal and corporate fields, and an extensive Q&A style features section which looks at the key legal issues affecting the profession, led by the biggest stories of the moment." 
Congratulations to all winners.
Cheers,
Uduak
Learn more about Yahaya's Chocolate City

Subscribe to Our Podcast Show
Some of Our Achievements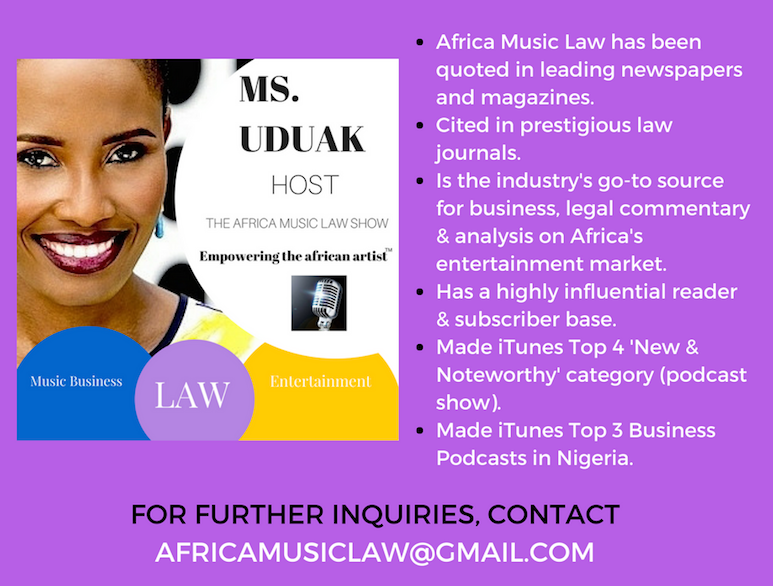 AFRICA MUSIC LAW™ (AML) is a pioneering music business and entertainment law blog and podcast show by Fashion and Entertainment Lawyer Ms. Uduak Oduok empowering the African artist and Africa's rapidly evolving entertainment industry through brilliant music business and entertainment law commentary and analysis, industry news, and exclusive interviews.
Credited for several firsts in the fashion and entertainment industry, Ms. Uduak is also a Partner and Co-Founder of Ebitu Law Group, P.C. where she handles her law firm's intellectual property law, media, business, fashion, and entertainment law practice areas. She has litigated a wide variety of cases in California courts and handled a variety of entertainment deals for clients in the USA, Africa, and Asia. Her work and contributions to the creative industry have been recognized by numerous organizations including the National Bar Association, The American University School of Law and featured in prestigious legal publications in the USA including ABA Journal and The California Lawyer Magazine.
For legal representation inquiries, please email (uduak@ebitulawgrp.com). For blog related inquiries i.e. advertising, licensing, or guest interview requests, please email (africamusiclaw@gmail.com). Thank you for visiting Africa Music Law™.