Until the past few years, it seemed like Linda Ikeji, a celebrity gossip blogger, was unaffected by what the public or celebrities had to say about her. However, the Wizkid incident and the Hermes Birkin handbag situation changed that perception. In the Wizkid case, not only did it affect Linda, Linda no longer shares any stories (good or bad) about Wizkid. In the Hermes Birkin "fake" handbag allegation situation, I believe the way she reacted has resulted in many feeling bolder to challenge and at times concoct stories about Linda. In fact, tables have now turned because the renowned gossiper is now often the subject of gossip.
The latest is an allegation which occurred last week that Nigeria's Federal Inland Revenue Service (think the equivalent of the IRS in the U.S.) was after Ikeji for tax fraud.
Question for you AML people. From a branding standpoint, if Linda Ikeji came to you as a potential public relations client and said, "I am now often the subject of gossips and I am concerned if it continues at this pace, it could affect my business," what would you recommend her to do?
In the meantime, read the alleged fraud story and Linda's response below. In addition, I think Linda Ikeji and Toke Makinwa may want to consider talking to their lawyers about Ndani TV's new web series called 'Rumor Has It,' which seems to be combining Linda and Toke's life stories, especially Linda. I share that series below as well.
Cheers,
-Ms. Uduak
"Big trouble in Linda's paradise…FIRS slams N75m on Linda Ikeji for tax evasion

Mischief makers are at their worst again. Like predatory locusts swarming on a bean farm, they have gathered to pierce at the jugular of Linda Ikeji, the celebrity blogger. No sooner did the Federal Inland Revenue Service (FIRS) swoop on Linda's Banana Island home than her traducers march to town chanting victory songs. Too many of her readers are ecstatic about her recent ordeal in the hands of the FIRS.

According to a source in the FIRS, the celebrity blogger had been evading tax payment, which has amounted to the whooping sum of N75 Million. However, when asked about the purchase of the house, it was disclosed that Linda blatantly denied ownership of the N500 Million luxurious mansion which she allegedly purchased in 2015.

Linda's denial of ownership of the edifice resonated as sweet melody to her detractors, many of whom she had consciously or unconsciously angered by persistent news of her professional and financial success. Foes of Linda are hauling invectives at her like lances claiming she is a big fraud who gloried in misleading the public about the ownership of the building and her actual financial status. Many of them are of the opinion that Linda should have simply come clean and make everyone understand that she is just a tenant in the building.

Linda's critics are not ready to soft-pedal on her; they are vigorously attacking Linda every minute and condemning her for the way she openly bragged about the purchase of the building in 2015.

They keep referencing the fact that Linda took to her blog to post the exterior and interior pictures of the luxury apartment calling herself a 'self-made woman' and bragging afterwards: "I bought a two-storey luxury house in the exclusive Banana Island area of Ikoyi…and to be honest, I still can't believe it. It's everything I prayed my house would be. That's me standing in front of my house. #ProudSelfMadeWoman."

But while Linda's detractors take her to the cleaners over her perceived fraudulence, close friends and associates of the celebrity blogger have risen to her defence. According to them, Linda's detractors should let her be.

"Instead of attacking a career girl who worked her ass off to attain the greatest height in her chosen career, they should learn to appreciate her fortitude and grace. And if they can't, let them go and bite a bullet," said a very close friend of Linda. Indeed, Linda worked very hard to put herself and Nigeria on the world map; rabble rousers should go easy on her.

As you read, the FIRS has slammed Linda with a N75 million fine and the agency has initiated measures to prosecute her in a court of law. These are certainly not the best of times for Linda Ikeji but like they always say, behind every dark pall shines a silver lining." – The Capital
Linda Ikeji's alleged response to Pulseng regarding the story above:
"Now, Linda exclusively told Pulse those rumours are false as she works as an individual and not a company.

According to her, "Firs go after companies not individuals. And I was operating as an individual," she said.

Linda Ikeji who was alleged to have said she is not the owner of the Banana Island Mansion had earlier this year claimed to be hers had this to say about that. She told Pulse, "And the Banana house is mine 1000%..lol. Proudly mine and I would never deny it." –Pulse.ng
Ndani TV's 'Rumor Has it'

Subscribe to Our Podcast Show
Some of Our Achievements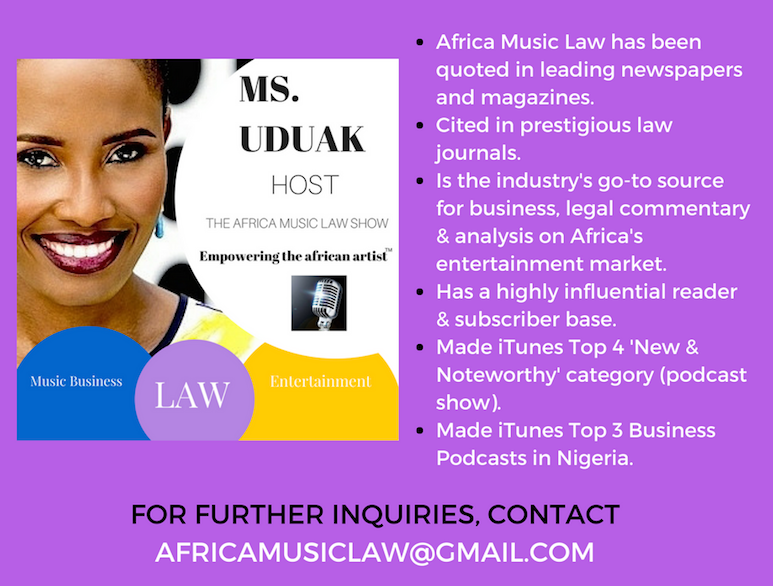 AFRICA MUSIC LAW™ (AML) is a pioneering music business and entertainment law blog and podcast show by Fashion and Entertainment Lawyer Ms. Uduak Oduok empowering the African artist and Africa's rapidly evolving entertainment industry through brilliant music business and entertainment law commentary and analysis, industry news, and exclusive interviews.
Credited for several firsts in the fashion and entertainment industry, Ms. Uduak is also a Partner and Co-Founder of Ebitu Law Group, P.C. where she handles her law firm's intellectual property law, media, business, fashion, and entertainment law practice areas. She has litigated a wide variety of cases in California courts and handled a variety of entertainment deals for clients in the USA, Africa, and Asia. Her work and contributions to the creative industry have been recognized by numerous organizations including the National Bar Association, The American University School of Law and featured in prestigious legal publications in the USA including ABA Journal and The California Lawyer Magazine.
For legal representation inquiries, please email (uduak@ebitulawgrp.com). For blog related inquiries i.e. advertising, licensing, or guest interview requests, please email (africamusiclaw@gmail.com). Thank you for visiting Africa Music Law™.