Is this Marek Zymslowski flexing some serious muscles as Jovago.com tries to position itself as more formidable than Mark Essien's Hotels.ng? Competition in the market place is good, I believe. Interesting to see what these two brands continue to do and the new entrants I foresee coming into the space. Indeed on its face, it looks like there is a lot of money to be made in the hotel booking space.
-Uduak
Lagos, Nigeria, (30th) September 2014 – Jovago, www.jovago.com – Africa's largest online hotel booking platform, has signed a white label partnership with one of West Africa's largest regional carriers, Africa World Airlines, to provide more accessible hotel booking services to Africans.

This partnership with Africa World Airlines – which makes Jovago.com their official hotel partner – will ensure that African travelers visiting the Africa World Airlines website http://www.flyafricaworld.com/ can find and book over 200,000 hotels around the world and 5,000 hotels specifically in Africa, which are all available on Jovago.com. This will make it even easier for travelers visiting the website to find and book hotels in a few simple clicks.

Kingsley Chima, the Country Manager of Africa World Airlines, in a statement said "We are very delighted to be partnering with Jovago.com as this white label hotel booking solution will ensure that everyone visiting the website to book flights across Accra, Nigeria, Senegal, Sierra Leone and Liberia can as well book their trips easily from the wide selection of hotels available on Jovago.com".

As the official hotel partners of Africa World Airlines www.Jovago.com will ensure that travellers booking regional flights on Africa World Airlines can find hotels across Africa and around the world. According to Marek Zmyslowski, Managing Director of Jovago.com, "This is a great achievement for Jovago.com. As the leading hotel booking site in Africa, this is one step towards ensuring that we meet our travelling customers wherever they may be, especially while they are in the booking process. This partnership with Africa World Airlines will make booking hotels online even more accessible for African travelers."
Subscribe to Our Podcast Show
Some of Our Achievements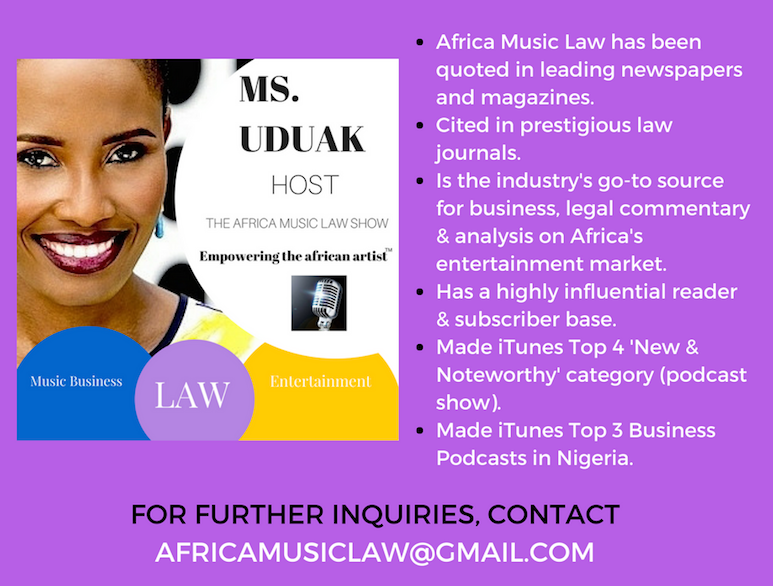 AFRICA MUSIC LAW™ (AML) is a pioneering music business and entertainment law blog and podcast show by Fashion and Entertainment Lawyer Ms. Uduak Oduok empowering the African artist and Africa's rapidly evolving entertainment industry through brilliant music business and entertainment law commentary and analysis, industry news, and exclusive interviews.
Credited for several firsts in the fashion and entertainment industry, Ms. Uduak is also a Partner and Co-Founder of Ebitu Law Group, P.C. where she handles her law firm's intellectual property law, media, business, fashion, and entertainment law practice areas. She has litigated a wide variety of cases in California courts and handled a variety of entertainment deals for clients in the USA, Africa, and Asia. Her work and contributions to the creative industry have been recognized by numerous organizations including the National Bar Association, The American University School of Law and featured in prestigious legal publications in the USA including ABA Journal and The California Lawyer Magazine.
For legal representation inquiries, please email (uduak@ebitulawgrp.com). For blog related inquiries i.e. advertising, licensing, or guest interview requests, please email (africamusiclaw@gmail.com). Thank you for visiting Africa Music Law™.