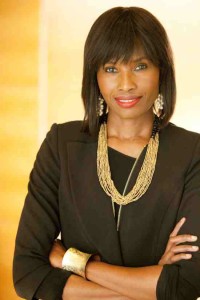 Hey AML people, I trust you all are well. I started the year on a strong note focused on writing a comprehensive book about the industry with a special focus on law and the business of music in Nigeria. The book encompasses digital distribution, publishing, licensing, law etc. and is told from an angle that easily translates to those looking to break into America's music market. However, I have not been on that grind for some time now and I really need to. My book writing mojo is back and I am staying sharply focused on it. I am hoping I can finish the first draft before the year runs out and then focus on edits before working out the kinks with potential publishers. P.S: Publishers, feel free to contact me at (africamusiclaw@gmail.com)
For all, it will definitely be a gotta have, mustha have book. For AML Industry professionals in the USA, if you will do music business in Nigeria, then owning a copy of the book is non-negotiable.
What all of these translate to is that you will be seeing more music offerings here, for the rest of this month, as I hone in on completing this book.  I will from time to time, chime in on the must discuss news stories that hit the web. I will also be reaching out to some names I respect in the business both emerging and established industry professionals for an interview that encompasses some of the on the ground realities ranging from Alaba market to music touring.
I'm leaving this post on the right side bar so I can also remind myself each day I visit AML to get my writing on.
Catch you all soon on AML with your mp3s and videos you have sent that needs to be out the door, like yesterday.
Cheers,
Uduak
@uduaklaw
Subscribe to Our Podcast Show
Some of Our Achievements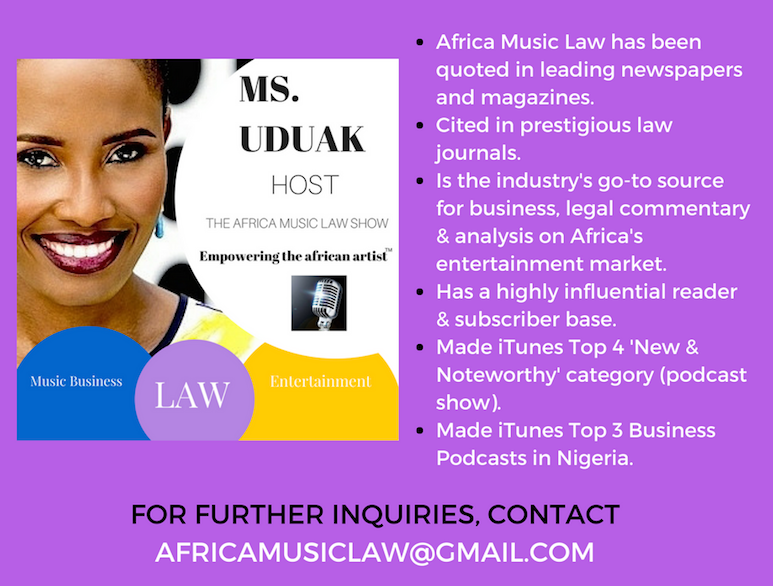 AFRICA MUSIC LAW™ (AML) is a pioneering music business and entertainment law blog and podcast show by Fashion and Entertainment Lawyer Ms. Uduak Oduok empowering the African artist and Africa's rapidly evolving entertainment industry through brilliant music business and entertainment law commentary and analysis, industry news, and exclusive interviews.
Credited for several firsts in the fashion and entertainment industry, Ms. Uduak is also a Partner and Co-Founder of Ebitu Law Group, P.C. where she handles her law firm's intellectual property law, media, business, fashion, and entertainment law practice areas. She has litigated a wide variety of cases in California courts and handled a variety of entertainment deals for clients in the USA, Africa, and Asia. Her work and contributions to the creative industry have been recognized by numerous organizations including the National Bar Association, The American University School of Law and featured in prestigious legal publications in the USA including ABA Journal and The California Lawyer Magazine.
For legal representation inquiries, please email (uduak@ebitulawgrp.com). For blog related inquiries i.e. advertising, licensing, or guest interview requests, please email (africamusiclaw@gmail.com). Thank you for visiting Africa Music Law™.