[spp-player]Entertainment Lawyers Xerona Duke, Ollachi "Enze" Holman and Family Law Attorney Ms. Unwam Oduok are guests on The Africa Music Law Show's 47th episode with Ms. Uduak; where they discuss some of the hottest topics in pop culture and their intersections with the law. It's a fun, entertaining, and informative panel and episode you do not want to miss! Listen to this episode and enjoy the concluding episode next week.
Inside this Episode:
Toke Makinwa v. Maje Ayida: What are the legal grounds for divorce in Nigeria?
The Rise of Baby Mamas in Nigeria: What are the inheritance rights of children born out of wedlock?
Is Bruce Jenner's decision to change to Caitlyn Jenner psychologically detrimental to Kylie & Kendall Jenner?
Is Bristol Palin required to return payments she received for her role as abstinence brand ambassador now that she is pregnant?
Should Sofia Vergara's ex be allowed to have custody of the frozen embryos the couple created when they were together?
Where to Find Enze
Twitter: Enzetweets | Enzeslaw
Where to Find Xerona Duke
Facebook: Xerona Duke
Where to Find Ms. Unwam
Email: (unwam@ebitulawgrp.com)
Website: www.ebitulawgrp.com
[spp-transcript]
Subscribe to Our Podcast Show
Listen to the Latest Podcast Episodes
Some of Our Achievements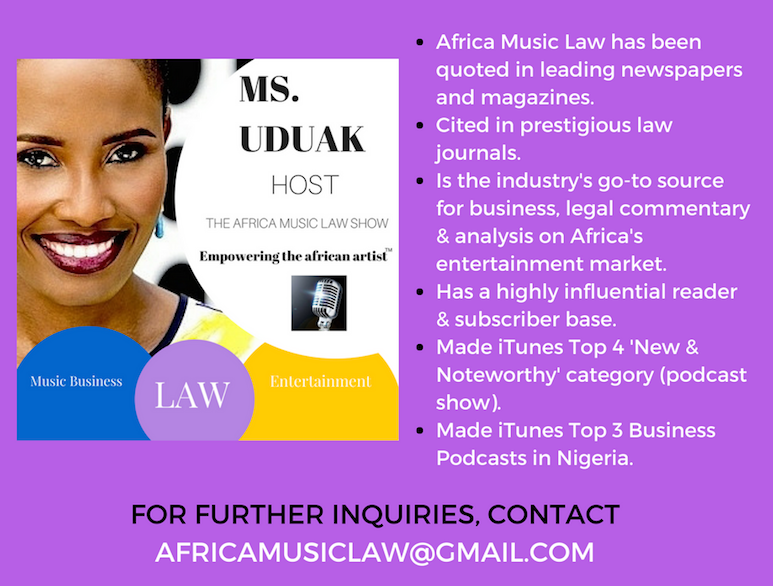 AFRICA MUSIC LAW™ (AML) is a pioneering music business and entertainment law blog and podcast show by Fashion and Entertainment Lawyer Ms. Uduak Oduok empowering the African artist and Africa's rapidly evolving entertainment industry through brilliant music business and entertainment law commentary and analysis, industry news, and exclusive interviews.
Credited for several firsts in the fashion and entertainment industry, Ms. Uduak is also a Partner and Co-Founder of Ebitu Law Group, P.C. where she handles her law firm's intellectual property law, media, business, fashion, and entertainment law practice areas. She has litigated a wide variety of cases in California courts and handled a variety of entertainment deals for clients in the USA, Africa, and Asia. Her work and contributions to the creative industry have been recognized by numerous organizations including the National Bar Association, The American University School of Law and featured in prestigious legal publications in the USA including ABA Journal and The California Lawyer Magazine.
For legal representation inquiries, please email (uduak@ebitulawgrp.com). For blog related inquiries i.e. advertising, licensing, or guest interview requests, please email (africamusiclaw@gmail.com). Thank you for visiting Africa Music Law™.