"The enhanced production and content quality of Nigerian films indicate the growing professionalism in Nollywood (the Nigerian movie sector) with the industry making an average of N1.72 trillion in 2013 analysts say.
In the last five years, the industry has been growing in terms of quality. Little wonder it has been rated the third most valuable movie industry in the world, behind Hollywood and Bollywood. The development has also impacted on returns.
Just as it has ranked third globally in terms of quality of production, it has grossed revenues that placed it third in the world.
Robert Orya, managing director, Nigerian Export-Import Bank (NEXIM), says Nollywood ranks third globally in revenue. According to him, the revenue the film industry has generated in the last three years is between $300 million and $800 million.
"The global film and entertainment industry generated about $90.6 billion revenue in 2010," Orya explains, saying "the revenue increased to $102.7 billion in 2012. Most of these revenue streams are from theatrical distribution. North America contributed the largest market share of about 40 percent. Europe, Middle East and Africa accounted for 24 percent, Latin America 20 percent, and Asia Pacific made only 3 percent contribution."
Victor Okhai, film maker, says a new crop of film makers began to bring professionalism into the industry in the past few years, which explains the improvement in the quality of films produced lately. Those who fall into this group include Tunde Kelani with movies like 'Thunderbolt' ('Magun'), Tade Ogidan with 'Dangerous Twins,' Richard Mofe Damijo's 'Out of Bounds,' Ego Boyo with '30 Days,' the Amstel Malta Box Office series.
"It is expected that the quality of films will improve," says Okhai. "We are at a stage where we can no longer play the mediocre. We have discovered that when we attend film festivals, we realised that nobody pays attention to Nollywood films. They look at the industry with disdain at these film festivals. Then local film makers came back home to do some serious work. Many film makers are challenged by what they see at film festivals," he says.
The year 2013 witnessed the birth of the most expensive film in Nollywood, "Half of a Yellow Sun," which cost about N1.27 billion ($8m) to make. The movie, an adaptation of Chimanmanda Ngozi Adichie's novel, "Half of a Yellow Sun," was shot at Tinapa Film Studio, Cross River State, and in the United Kingdom. . ."
What do you guys think about this story?
Business Day has the full feature.
Subscribe to Our Podcast Show
Listen to the Latest Podcast Episodes
[smart_podcast_player style="light" show_name="The Africa Music Law™ Show" ]
Some of Our Achievements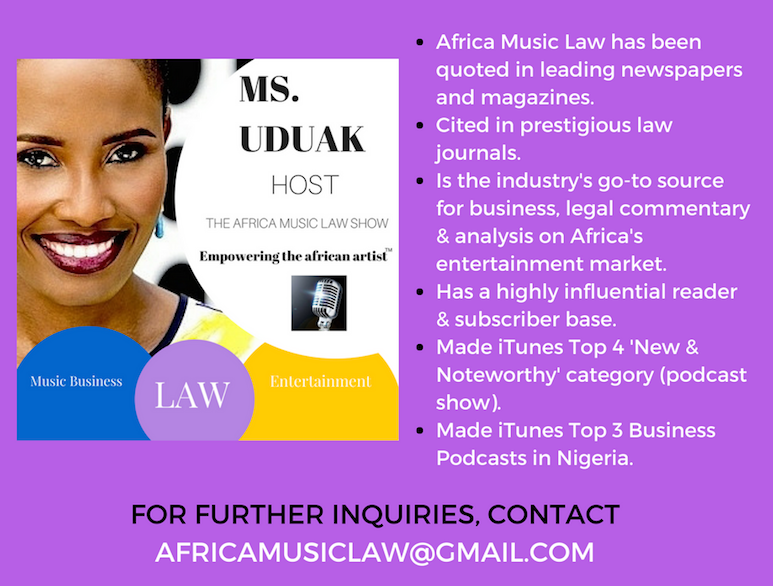 AFRICA MUSIC LAW™ (AML) is a pioneering music business and entertainment law blog and podcast show by Fashion and Entertainment Lawyer Ms. Uduak Oduok empowering the African artist and Africa's rapidly evolving entertainment industry through brilliant music business and entertainment law commentary and analysis, industry news, and exclusive interviews.
Credited for several firsts in the fashion and entertainment industry, Ms. Uduak is also a Partner and Co-Founder of Ebitu Law Group, P.C. where she handles her law firm's intellectual property law, media, business, fashion, and entertainment law practice areas. She has litigated a wide variety of cases in California courts and handled a variety of entertainment deals for clients in the USA, Africa, and Asia. Her work and contributions to the creative industry have been recognized by numerous organizations including the National Bar Association, The American University School of Law and featured in prestigious legal publications in the USA including ABA Journal and The California Lawyer Magazine.
For legal representation inquiries, please email (uduak@ebitulawgrp.com). For blog related inquiries i.e. advertising, licensing, or guest interview requests, please email (africamusiclaw@gmail.com). Thank you for visiting Africa Music Law™.