Born in the 1980s into an upper middle-class Nigerian family with a guitarist for a father, Osagie Alonge grew up listening to diverse music sounds from mostly Nigerian and Western musicians. Osagie had a long term vision of becoming an Artist & Repertoire with a career that mirrored his role model, America's music industry executive Chris Lighty (RIP), but life had a different plan.
Unfortunately, the economic status of his family took a downturn due to the socio-economic and political realities of Nigeria then and was compounded when his father became very ill. Osagie was forced to learn to fend for himself and to hustle. In 1999, he discovered hip-hop and a deep love for the genre and four years later launched his own recording studio and hip-hop band. In 2004, Osagie debuted his band's first eighteen track mix tape. His band also quickly began gaining notoriety in underground circles and Osagie even featured on a track of one of the prominent hip hop artists then, Terry Tha Rapman.
Determined to succeed with his music career, Osagie turned to digital publisher NotJustOk.com to publish his music. The rejection/non-responsiveness he received prompted him to take matters into his own hands and launch his own blog. His experience managing his blog and that of others helped him secure a job as a content uploader at the popular online magazine TheNet.ng, owned by Ayeni Adekunle. From a content uploader, Osagie graduated to learning the ropes about journalism under the guidance and mentorship of Adekunle, and would go on to become one of the most formidable and distinct voices in entertainment journalism out of Nigeria. Today, Osagie is the Editor-in-Chief of Pulse.ng, a company owned by Ringier AG, the largest international operating media company in Switzerland.
He joins Ms. Uduak on the 73rd episode of The Africa Music Law Show, in an exclusive interview, to share his career trajectory and his hope for Nigeria's entertainment industry.
The Africa Music Law show is the premier music business and entertainment law show empowering the African artist, and the creative industry at large, with top notch exclusive interviews, business commentary and legal analysis. The podcast show has over 100,000 downloads and in 2014, made iTunes' Top 4 in its 'New & Noteworthy' category. Its subscribers are primarily Africa & Hollywood's influencers i.e. industry executives, artist-preneurs, lawyers, and other creative talents
Episode Preview
#Factsonly show, controversy and realities.
Foray into journalism
Meeting Ayeni Adekunle
Working for NETng.ng
Learning the ropes of the publishing business and journalism
Rising through the ranks
Leaving Netng.net
Working for Pulseng
Working as Editor-in-Chief at Pulse
Personal life
Hope for Nigeria's entertainment industry
Where to Find Osagie Alonge
Twitter: @Osagz
Where to Find AML Host Ms.Uduak
Twitter: @uduaklaw
Website: www.msuduak.com
Rate us on iTunes
If you enjoy the show, please leave a comment on our iTunes page and our Stitcher page.
Sponsorship and/or Guest Appearance
Please send email to: (africamusiclaw@gmail.com)
Thanks for Listening!
If you enjoyed the show, please share on your social media pages and with friends and family. Also if you have any questions, please feel free to send an email to (africamusiclaw@gmail.com)
Subscribe to Our Podcast Show
Listen to the Latest Podcast Episodes
Some of Our Achievements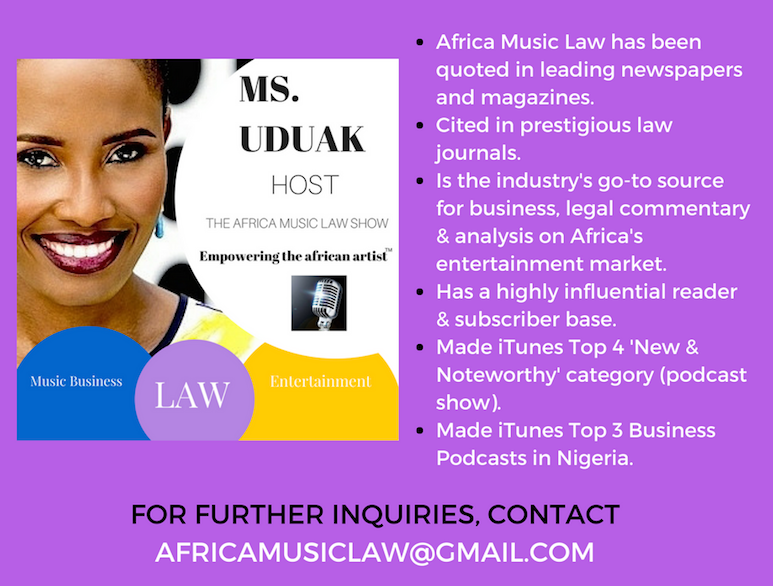 AFRICA MUSIC LAW™ (AML) is a pioneering music business and entertainment law blog and podcast show by Fashion and Entertainment Lawyer Ms. Uduak Oduok empowering the African artist and Africa's rapidly evolving entertainment industry through brilliant music business and entertainment law commentary and analysis, industry news, and exclusive interviews.
Credited for several firsts in the fashion and entertainment industry, Ms. Uduak is also a Partner and Co-Founder of Ebitu Law Group, P.C. where she handles her law firm's intellectual property law, media, business, fashion, and entertainment law practice areas. She has litigated a wide variety of cases in California courts and handled a variety of entertainment deals for clients in the USA, Africa, and Asia. Her work and contributions to the creative industry have been recognized by numerous organizations including the National Bar Association, The American University School of Law and featured in prestigious legal publications in the USA including ABA Journal and The California Lawyer Magazine.
For legal representation inquiries, please email (uduak@ebitulawgrp.com). For blog related inquiries i.e. advertising, licensing, or guest interview requests, please email (africamusiclaw@gmail.com). Thank you for visiting Africa Music Law™.