Is history accurately reflected in this top 20 list by Reading-Bridges (RB) Magazine paying homage to the modern day pioneers of Nigeria's music industry?
All names look credible but are you telling me that there is not one single woman that made it as part of the top 20 pioneers?  No modern day Christy Essien-Igbokwe?
And if you are wondering who the heck is "Reading-Bridges" Magazine?
Check how they define themselves below. By the way, a sure and tested strategy for media or bloggers to gain attention is to compile a list. People love to belong to a list or find out why they are excluded.
Check out the list below, first glimpsed on Linda Ikeji's blog and tell me if you agree with it.
Cheers,
Uduak
About RB
RB MAGAZINE is a strategic and independent publication committed to pursuing a vigorous presence for reading in our culture. RB promotes empowerment and celebrates aspiration, in a world where leaders are engaged, inspired and equipped to transform society for the betterment of all. It exists primarily to discover and celebrate the best in literary works and to place it before the largest possible audience.

Under the direction of Editor-in-Chief, Mina Ogbanga, the bi-monthly magazine, now in its 3rd year, reaches nearly 200,000 readers. RB MAGAZINE features the best thinkers, trend-setters, hottest celebrities and next-generation leaders of Nigeria.

RB MAGAZINE is available on news stands nationwide.

1    1) Kennis Music : Nigeria's foremost indigenous record label. Even though they had a structure that promoted basically acts under its umbrella, they generally gave the new school artist an enviable status. Hype masters who were undeniable experts of bestowing a larger than life perception to the new school Nigerian music artist and warming them into the hearts of Nigerians via the widest TV network at the time. This often attracted followership for the artist, increasing their fan base as well as big bucks from the corporate sponsors. Kennis music hold the record of getting the first new school Nigerian act (Rapper EedrisAbdulkareem) to be paid N1,000,000:00 for one show.

2  2)  Ben Omoage, popularly known as Grand Master Lee and widely called GML. A strong crusader for the new school act. His voice was on radio and it was loud. His platform had power and he used the power predominantly to call attention to the emergence of a new kind of sound. He was loud and he was heard. GML was known to be kind to the new bunch of musicians and gave them air time they could never pay for.

3  3) Ayo Animashaun : The resilience of another pioneer. His introduction was with his magazine that thought a generation the lyrics of all their favorite songs. He was one of the first to play Mongo Park with the hip hop world. Discovering a whole new world of Nigerian music. Ayo also engineered the most enviable reward scheme for the new school act with an Award ceremony that replicated Hollywood's glitz and glam.

4   4)  Emma Ugolee: A forerunner with the introduction of music videos as the new tool for marketing the new Nigerian artist. On TV, this presenter, producer was the only alternative to the Kennis music dynasty. As inventor of the first ever all Nigerian music video countdown, his TV show was making more artist than we expected. Renowned for his ear and eyes for talent and personal support for most of Nigeria's biggest music acts today from the early days of their struggle. A force the industry would never forget.

5) Dj Jimmy Jatt: An old school Dj with the new school flavor. If Jimmy played your song, it was like getting a seal of industry approval, cause unlike many of his colleagues who were still stuck with music from the west, Jimmy celebrated the new Nigerian music by playing at the biggest platforms in his time. Every leader of the new school has a cherished favor given by Jimmy in the wake of his career. In the words of Tuface "back then na Jimmy Jattna him dey give us instrumental."

6) Paul Play: New school producer extraordinaire. Made that fresh sound for so many of the pioneers as well as himself. Formed one of the first new schoolR and B groups in Nigeria called Oxygen. Paul IK Dairo had big shoes to fill with a musical icon of a father, but like Femi Kuti, he too had found his own path and identity but also carried quite a crowd on his back in the process.

7)  Kwame : Kwame was another voice on radio with a following that was hard to ignore. His style made us all want to listen to what he said. This presenter deserved our attention. When the new school took off. Kwame was a pilot that the journey wouldn't do without. He used his platform well for the good of the course. His hunger expanded to TV where Nigizziewas eventually born

8)  Eldee: For an under graduate in his late teens, his vision was legendary. Forming his solo record label (tribe records) and initiating trade with the Alaba trader for the industry are landmarks that changed the business, inspiring a whole lot. Attributable all to a man aptly called the Don. Tribe records also went on to create a long chain of successful careers.

9)  Nelson Brown : Another producer of the new Nigerian sound. The legendary Daddy Showkey's "Diana"  and Plantation boy's "body and soul" albums are one of the many industry redefining sounds that came out of the stable of Mr Brown's dove records that operated from a small kiosk in Festac. Nelson's versatility was amazing as he made hip hop hits for Def O clan, Love songs for P.boiz  and yet sold that Ajegunle new school to Nigeria.

10)  Obi Asika : Heavy weight that enjoyed throwing his weight behind the new Nigerian sound. His backing for Junior and Pretty was one of the early signs that the industry was better off with Obi sticking around. This was made manifest over time as many more owed their blossoming careers to his dedication to improving the industry.

Full story on RB Magazine
Subscribe to Our Podcast Show
Some of Our Achievements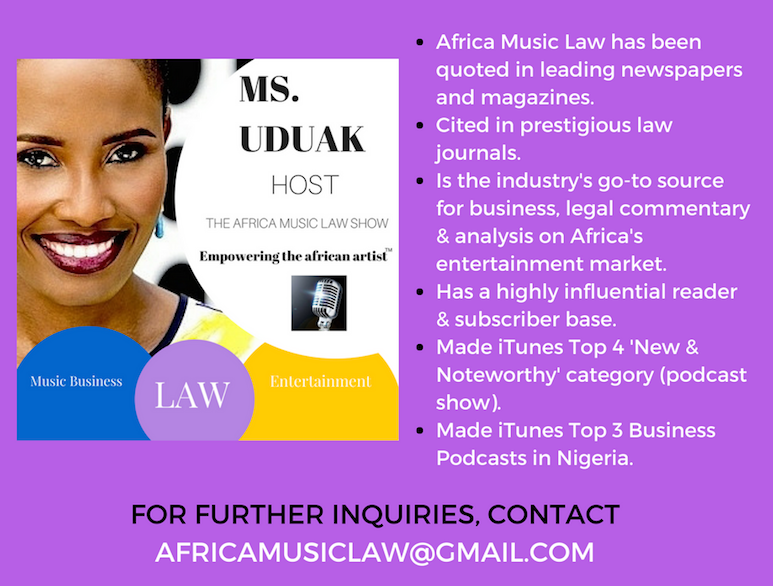 AFRICA MUSIC LAW™ (AML) is a pioneering music business and entertainment law blog and podcast show by Fashion and Entertainment Lawyer Ms. Uduak Oduok empowering the African artist and Africa's rapidly evolving entertainment industry through brilliant music business and entertainment law commentary and analysis, industry news, and exclusive interviews.
Credited for several firsts in the fashion and entertainment industry, Ms. Uduak is also a Partner and Co-Founder of Ebitu Law Group, P.C. where she handles her law firm's intellectual property law, media, business, fashion, and entertainment law practice areas. She has litigated a wide variety of cases in California courts and handled a variety of entertainment deals for clients in the USA, Africa, and Asia. Her work and contributions to the creative industry have been recognized by numerous organizations including the National Bar Association, The American University School of Law and featured in prestigious legal publications in the USA including ABA Journal and The California Lawyer Magazine.
For legal representation inquiries, please email (uduak@ebitulawgrp.com). For blog related inquiries i.e. advertising, licensing, or guest interview requests, please email (africamusiclaw@gmail.com). Thank you for visiting Africa Music Law™.