Ademola Ogundele is the founder and CEO of Notjustok.com. Notjustok.com pioneered the popularity for African music online. It remains the premiere and most-visited online platform delivering new African contemporary music content , videos, news and music-related content daily by exposing remarkable artists and their material, from the fast-growing Nigerian music industry, African continent, and artists of African descent in the Diaspora.
Ogundele holds a degree in computer science from Kennesaw State University.
Cosmas Collins aka Cos Canino is a music promoter, event organizer and producer. He is also the founder of UnderDaRock Entertainment, UDR Media (Online Radio and TV UDR), Co-founder and executive producer of the NEA Awards, and an organizing member of the Annual Nigerian Independence Day Parade Weekend in New York City.
Rocky Dawuni is a Grammy nominated Los Angeles, USA, based Ghanaian singer and songwriter. He is also a music entrepreneur in the live entertainment space.
Preview
Grammys
Digital music content
Branding and crisis management
Endorsement deals
Artist health
Event promotion
Music publishing
Where to Find Ademola Ogundele, Cos Canino & Rocky Dawuni
Ademola Ogundele on Twitter.
@CosCanino on Twitter.
@RockyDawuni on Twitter.
Where to Find Ms.Uduak
Twitter: @uduaklaw
Website: www.msuduak.com
About The Africa Music Law Show with Ms. Uduak
Hosted by California based Fashion & Entertainment Lawyer Uduak Oduok (Ms. Uduak), The Africa Music Law show is a show empowering the African artist through brilliant music business and entertainment law commentary and analysis, industry news, and exclusive interviews. The show has been downloaded over 150,000 times and made iTunes top 4 'New & Noteworthy.' Subscribers include Africa & hollywood's power executives, investors, lawyers, artists and other industry stakeholders. The blog itself has been cited in a U.S. top-ranked law school's 'International Law Review' journal. Country demographic: Nigeria (26%), USA (23%), UK (15%), UAE (7%), and Other (29%). 
Rate us on iTunes
If you enjoy the show, please leave a comment on our iTunes page and our Stitcher page.
Sponsorship and/or Guest Appearance
Please send email to: (africamusiclaw@gmail.com)
Thanks for Listening!
If you enjoyed the show, please share on your social media pages and with friends and family. Also if you have any questions, please feel free to send an email to (africamusiclaw@gmail.com).
Listen to the Latest Podcast Episodes
ABOUT AFRICA MUSIC LAW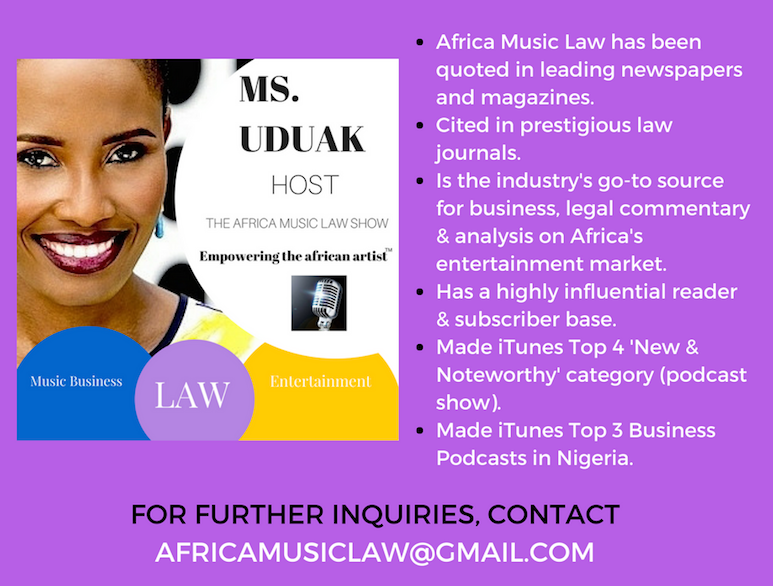 AFRICA MUSIC LAW™ (AML) is a pioneering music business and entertainment law blog and podcast show by Fashion and Entertainment Lawyer Ms. Uduak Oduok empowering the African artist and Africa's rapidly evolving entertainment industry through brilliant music business and entertainment law commentary and analysis, industry news, and exclusive interviews.
Ms. Uduak is also a Partner and Co-Founder of Ebitu Law Group, P.C. where she handles her law firm's intellectual property law, media, business, fashion, and entertainment law practice areas. For over seventeen years, as an attorney, she has litigated a wide variety of cases in California courts. She has also handled a variety of entertainment deals for clients in the USA, Africa, and Asia. Her work and contributions to the creative industry have been recognized by numerous organizations including the National Bar Association, The American University School of Law and featured in prestigious legal publications in the USA including ABA Journal and The California Lawyer Magazine.
For legal representation, please email (uduak@ebitulawgrp.com) to discuss your specific situation. For blog related inquiries i.e. advertising, licensing, or guest interview requests, or if you would like Ms. Uduak to host or speak at your event, please email (africamusiclaw@gmail.com). Thank you for visiting Africa Music Law™.