I am excited to see Shei Funmi take on this new music journey. He is so multi-faceted and talented. Check out his debut single below.
-Ms. Uduak
—-
When you wind up in "situationship" with a fluke, compose a tune about it! That is what Sheifunmi has done on his debut single, NOW or NEVER.
Penning an unusual passionate ditty, multimedia personality and public relations/communications specialist sings his heart out on his first single 'NOW or NEVER'. This ballad track comes as a surprise in light of the fact that Sheifunmi is regularly known for promoting and handling entertainment, fashion and creative brands.. Prior to lending his skills to diverse music artists and agencies (creating Brand/PR strategies) for the likes of Nimble, Yemi Alade, Falz, Tomi Thomas, FUNBI, Yinka Davies, Saeon, MiLLi, Grip Boyz, A'rese, Zamir, Shank, Tila Man and more, Shei was a music and pop culture reporter for MTV UK/MTV – The Wrap Up.
Sheifunmi's debut single 'NOW or NEVER' serves as the first song on his forthcoming #ANXIOLYTIC Ep produced by JYINIO. #ANXIOLYTIC journals his past relationships, detailing – Love, Heartbreaks and his Mental Health journey.
'NOW or NEVER' is a one of a kind track that ushers in a nostalgic vibe of 90s R'n'B meet millennial pop with a gigantic impact of music artists from the 80s (Prince, Depeche Mode, Marc Almond). With Sheifunmi's vocal texture and vulnerability, the track adds to the continuous evolution in Nigerian music/sounds.
With a broad resume which includes mental health advocacy through @projectgetnaked, TV/Radio personality, content creation, events/brand & crisis management, journalism and that's only the tip of the iceberg, Sheifunmi can now add recording artist to his impressive CV.
Listen to NOW or NEVER:
Subscribe to Our Podcast Show
Some of Our Achievements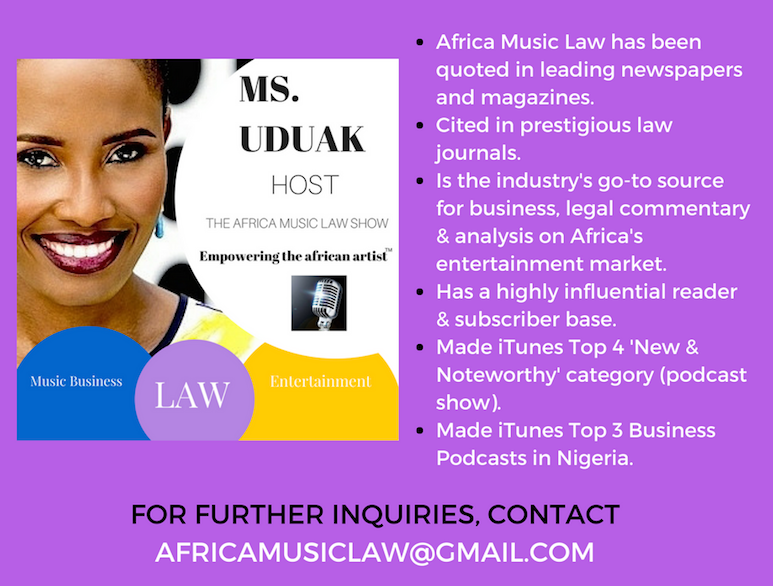 AFRICA MUSIC LAW™ (AML) is a pioneering music business and entertainment law blog and podcast show by Fashion and Entertainment Lawyer Ms. Uduak Oduok empowering the African artist and Africa's rapidly evolving entertainment industry through brilliant music business and entertainment law commentary and analysis, industry news, and exclusive interviews.
Credited for several firsts in the fashion and entertainment industry, Ms. Uduak is also a Partner and Co-Founder of Ebitu Law Group, P.C. where she handles her law firm's intellectual property law, media, business, fashion, and entertainment law practice areas. She has litigated a wide variety of cases in California courts and handled a variety of entertainment deals for clients in the USA, Africa, and Asia. Her work and contributions to the creative industry have been recognized by numerous organizations including the National Bar Association, The American University School of Law and featured in prestigious legal publications in the USA including ABA Journal and The California Lawyer Magazine.
For legal representation inquiries, please email (uduak@ebitulawgrp.com). For blog related inquiries i.e. advertising, licensing, or guest interview requests, please email (africamusiclaw@gmail.com). Thank you for visiting Africa Music Law™.