Popular U.S. based Nigerian hip-hop artist Sinzu has been released from federal prison, after serving a sentence for aggravated identity theft. His release was announced last month, but he recently shared a tweet confirming it and admitting responsibility for his criminal conduct. He also promises a new direction for his life by focusing on the music.
"Did the crime, did the time, the past don't matter, mind over matter, onto other Matters" ~ Sinzu
I agree with everything he says but to be clear, I believe that the past matters to the degree we use it as a way to learn from our mistakes so we don't repeat it.
In 2014, I conducted an exclusive interview with Sinzu that remains very relevant today and is one of my favorites. In the interview, he talks about the pressure on celebrity artists to present a false persona, including living above their means, leaving success in America to promote his music in Nigeria, the mistakes he made, the unsuccessful partnerships and much more.
Listen in. Welcome back to Sinzu. I wish you clarity of vision, an unwavering confidence in who you are, and the ability to march to the beat of your own drum.
-Ms. Uduak
Podcast Preview:
Sinzu's personal background and involvement in gangs in L.A.
How he broke into the music industry
What he did to gain recognition in the streets with his music and sell his music.
Why he moved to Nigeria.
His business relationship with Obi Asika and Storm Records
What happened and why he split with Storm.
Social media "beef," his thoughts on social media.
Advice to fellow artists.
New music projects.
Subscribe to Our Podcast Show
Some of Our Achievements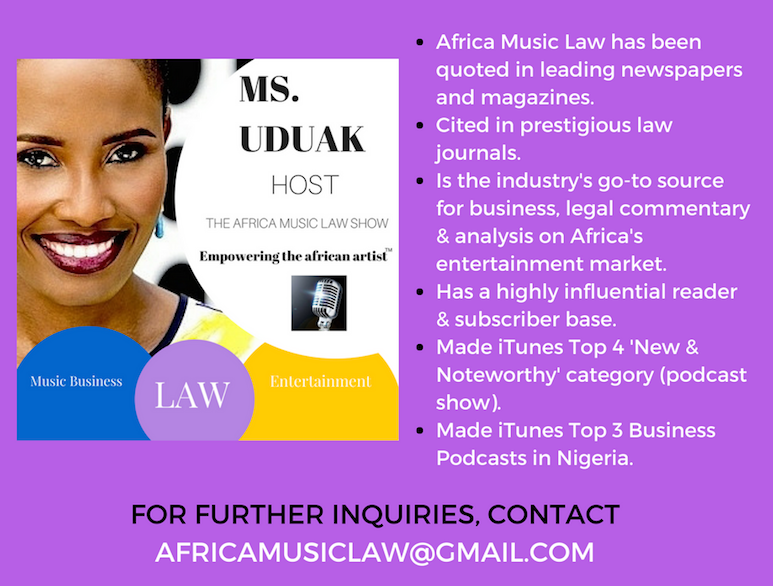 AFRICA MUSIC LAW™ (AML) is a pioneering music business and entertainment law blog and podcast show by Fashion and Entertainment Lawyer Ms. Uduak Oduok empowering the African artist and Africa's rapidly evolving entertainment industry through brilliant music business and entertainment law commentary and analysis, industry news, and exclusive interviews.
Credited for several firsts in the fashion and entertainment industry, Ms. Uduak is also a Partner and Co-Founder of Ebitu Law Group, P.C. where she handles her law firm's intellectual property law, media, business, fashion, and entertainment law practice areas. She has litigated a wide variety of cases in California courts and handled a variety of entertainment deals for clients in the USA, Africa, and Asia. Her work and contributions to the creative industry have been recognized by numerous organizations including the National Bar Association, The American University School of Law and featured in prestigious legal publications in the USA including ABA Journal and The California Lawyer Magazine.
For legal representation inquiries, please email (uduak@ebitulawgrp.com). For blog related inquiries i.e. advertising, licensing, or guest interview requests, please email (africamusiclaw@gmail.com). Thank you for visiting Africa Music Law™.