Nigerian-American pop star Tiwa Savage has, for a long time, sold the Nigerian and African public an image of an overall conservative woman and artist with strong traditional values in line with a very conservative Nigerian and African society. At some point, Savage even told a media house in a recorded video interview that she had aspirations to become a missionary after her music career. Deep, I know.
Within the industry, however, insiders have long reported and alleged a completely different image of Savage, one of a very liberal woman who loves to party. It appears, now, Savage is ready to reveal that other alleged identity. The problem, however, is whether Nigerians and Africans will allow this 37-year-old "married" mother of one child morph from her title as "the Nigerian Beyonce" into Rihanna.
In recent times, Savage shared a video of herself at a night club/hookah lounge partying and smoking Shisha and not surprisingly, many of have fans were unhappy. In fact, many blasted the pop star and expressed disappointment in her not being a "role model" for her son and young women in Nigeria. Nevertheless, it doesn't appear Savage is bothered. The star is clearly ready to loose the conservative brand image that she ironically created for herself and is carrying on with the business of music, as usual.
Savage is signed to Don Jazzy's Mavin Records, and is managed by Jay-Z's Roc Nation.
This is the second video of Savage smoking Shisha in a club. The first was a video where she smoked alongside Annie Idibia, 2Face's wife. The video, however, didn't have the viral effect this new one directly shared on Savage's page has had. And in case you are wondering:
"A hookah is a single- or multi-stemmed instrument for vaporizing and smoking flavored tobacco (Shisha), or sometimes cannabis, whose vapor or smoke is passed through a water basin—often glass-based—before inhalation…Health risks of smoking hookah include exposure to toxic chemicals that are not filtered out by the water[4] and risk of infectious disease when hookahs are shared." – Wikipedia
-Ms. Uduak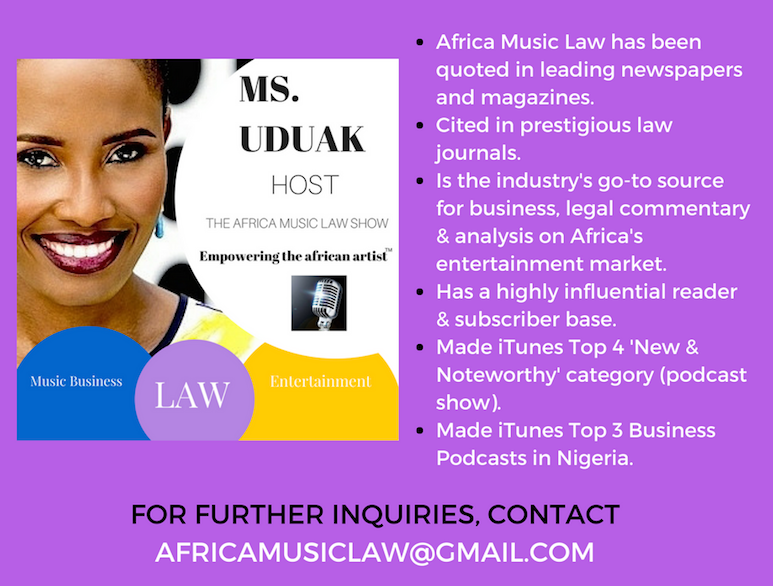 AFRICA MUSIC LAW™ (AML)
 is a pioneering music business and entertainment law blog and podcast show by Fashion and Entertainment Lawyer Ms.
Uduak Oduok
dedicated to empowering the African artist and Africa's rapidly evolving entertainment industry through brilliant music business and entertainment law commentary and analysis, industry news, and exclusive interviews.
The podcast show made iTunes top 4 'New & Noteworthy,'  and is iTunes top (3) business podcast shows in Nigeria. Subscribers include Africa & Hollywood's power executives, investors, lawyers, artists and other industry stakeholders.
The blog itself has been cited in a U.S. top-ranked law school's 'International Law Review' journal. Country demographic breakdown are as follows: Nigeria (26%), USA (23%), UK (15%), UAE (7%), and Other (29%). For blog related inquiries (advertising, podcast licensing, feature as a guest, news tips), contact (africamusiclaw@gmail.com).