The latest report on Tiwa Savage and TeeBillz, her music manager turned husband, is that they are headed for divorce. It is unclear where the divorce will be/has been filed i.e. Lagos, Nigeria vs. California, USA Family Law courts. The duo are Nigerian-Americans that returned to Nigeria less than a decade to advance their music careers. It is also alleged that TeeBillz is now back in the states. If they are indeed headed for or are now in divorce proceedings, it is only a matter of time that the alleged statements will be confirmed.
In the meantime, The Africa Music Law Show podcast episodes 77 & 78 break down the legal issues Tiwa and TeeBillz will have to deal with if they get a divorce, including business dissolution and assets, and child custody issues. The discussion is based on the now infamous public marriage crisis meltdown. Listen below.
-Ms. Uduak
"…Fresh reports have it now that Tiwa Savage has filed for a divorce from Teebillz. News bit making rounds online claim that Teebillz has since absconded to the US, and that for quite some time now, the couple had become estranged again. Part of this claim is backed by the evidence of TJ's obvious absence from social media affairs, which if we recall correctly, was the platform he used to air the dirty laundry back in 2016 when things degenerated badly for them.
Tiwa, however, seems to be really vested in her music and her son too, Jam Jam, who continues to make cute appearances on her social media posts. There's hardly any recognition, reference or even a mention of Teebillz, which further buttresses the wild thought that all is really not well with the couple…" – TooXclusive
Photo Credit: Ono Bello
Listen to the Latest Podcast Episodes
ABOUT AFRICA MUSIC LAW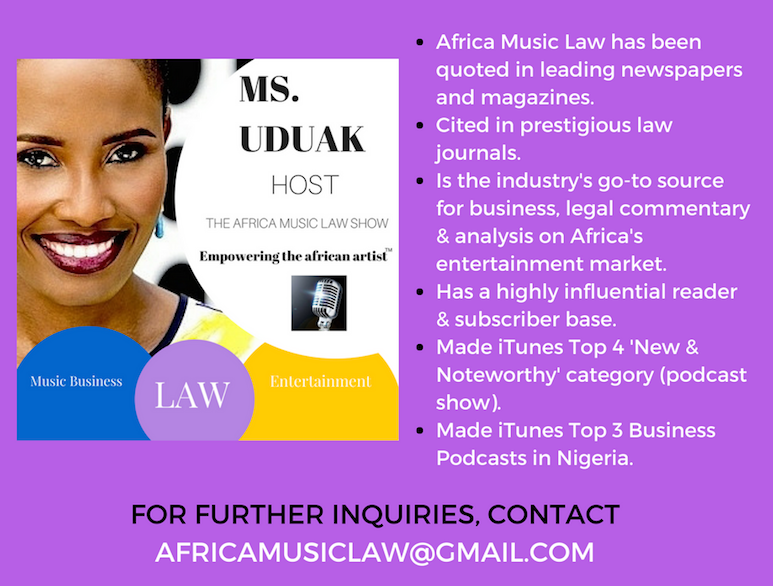 AFRICA MUSIC LAW™ (AML) is a pioneering music business and entertainment law blog and podcast show by Fashion and Entertainment Lawyer Ms. Uduak Oduok empowering the African artist and Africa's rapidly evolving entertainment industry through brilliant music business and entertainment law commentary and analysis, industry news, and exclusive interviews.
Ms. Uduak is also a Partner and Co-Founder of Ebitu Law Group, P.C. where she handles her law firm's intellectual property law, media, business, fashion, and entertainment law practice areas. For over seventeen years, as an attorney, she has litigated a wide variety of cases in California courts. She has also handled a variety of entertainment deals for clients in the USA, Africa, and Asia. Her work and contributions to the creative industry have been recognized by numerous organizations including the National Bar Association, The American University School of Law and featured in prestigious legal publications in the USA including ABA Journal and The California Lawyer Magazine.
For legal representation, please email (uduak@ebitulawgrp.com) to discuss your specific situation. For blog related inquiries i.e. advertising, licensing, or guest interview requests, or if you would like Ms. Uduak to host or speak at your event, please email (africamusiclaw@gmail.com). Thank you for visiting Africa Music Law™.